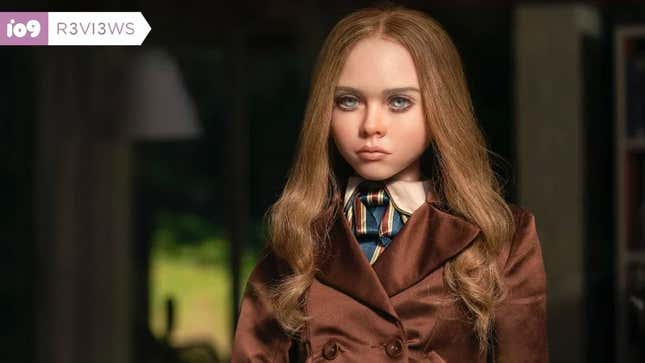 M3GAN is going to surprise a lot of people. From the trailers and slightly tongue-in-cheek internet hype, many are probably expecting a bonkers murder-fest starring a dead-eyed, artificially intelligent killer doll in the mold of Child's Play. And, okay fine. It is that, to an extent. But the majority of the movie is infinitely more serious and sad, resulting in a slightly imbalanced but nevertheless rewarding experience.

Chris Pratt and Bryce Dallas Howard Nerd Out About Jurassic Park's Returning Heroes
Directed by Gerard Johnstone, M3GAN was written by Akela Cooper (Malignant) from a story by Cooper and James Wan (Saw, Insidious). Wan also produces, along with Jason Blum, and from that list of names, you might think you can pigeonhole the film as your typical, crowd-pleasing horror movie. But that changes in the film's first two—very different and impactful—scenes. There we meet Cady (Violet McGraw), a young girl whose parents are killed in an unimaginable tragedy. The loss forces Cady's aunt Gemma (Allison Williams) to become her guardian, which is not something Gemma was planning for professionally, or ready for personally. Gemma works at Funki, a toy company specializing in innovative robots, and was secretly working on something very special before Cady came into her life. You guessed it. M3GAN.
While the character and concept of M3GAN (short for "Model 3 Generative Android") is introduced early in the film, early on Cooper and Johnstone dive much more prominently into the struggles of Cady and Gemma. The film explores Cady's grief and loneliness, Gemma's subconscious resentment, and the strained relationship all of that begets. The pressures of Gemma's boss at Funki (Ronny Chieng) are also a constant concern. It's a seemingly despondent situation and when even doctors can't help, Gemma decides to introduce Cady to M3GAN. Their quick bond and friendship feel like the perfect solution. Cady now has someone/something to talk to, and Gemma sees dollar signs as her experimental AI doll has infinitely more potential than she ever saw possible.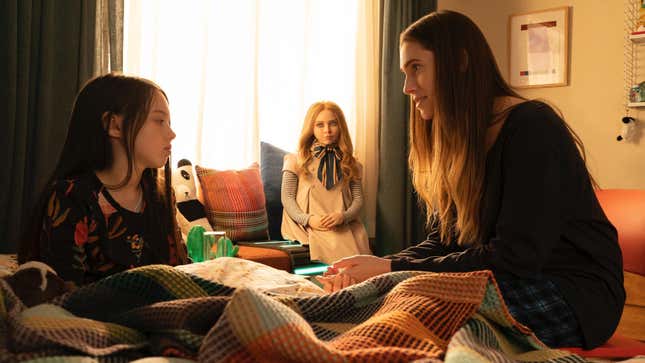 Very little of that is in the film's trailers and with good reason. People sitting down to see a movie about a psycho killer doll might not expect to grapple with themes like overwhelming loss, forced responsibility, or corporate greed. The aim in doing so, of course, is to give the audience a deeper understanding of the characters and distinguish M3GAN from other movies it's so obviously inspired by. Both work to an extent but the film's pedigree and expectations loom large. As all this happens, you can't help but wonder, when is this going to get fun?

Within those serious story beats, hints of M3GAN's plan begin to show. A knowing glance here. A curious edit there. And, though it takes a little longer than one might hope, things then escalate exponentially. Eventually, M3GAN gives us a handful of shocking horror scenes that will have you both shielding your eyes and laughing out loud. Because while M3GAN's subject matter is deadly serious, the way it handles its horror is not. The film's PG-13 rating means there isn't a ton of blood on screen, so instead the horror is campy and uncomfortable, with a nice dash of humor to break the tension. All of this is more than welcome because it balances the heartbreaking, intense, and emotional journeys of Cady and Gemma. Soon, the film slides to the complete opposite side of the spectrum and M3GAN just gets better and better as it happens.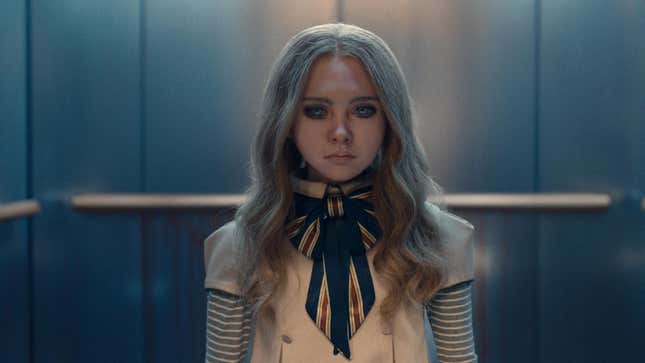 By the time M3GAN reaches its final stages, it feels like a whole other movie. After being so focused on the harsh realities of life, once it's no longer beholden to them, it's as if a weight has been lifted. That we know and understand the characters so well from the first half of the movie adds a little, but more than anything, you just get the sense the movie was holding back the good stuff. And make no mistake, it's damn good stuff. The finale of M3GAN is simultaneously hilarious, terrifying, and well worth the wait. You just wish the movie leaned into that more often.

M3GAN is half an exploration of real-life horrors and half a wild murder spree starring a killer doll. Each part of the film has its own merits and important takeaways, but in the end, the world we live in is so full of its own real-life horrors, the off-the-wall escapism resonates much more.
M3GAN is in theaters Friday.
---
Want more io9 news? Check out when to expect the latest Marvel, Star Wars, and Star Trek releases, what's next for the DC Universe on film and TV, and everything you need to know about the future of Doctor Who.