Bridgegate and being humiliated by Trump came to define former New Jersey Gov. Chris Christie's eight years in office, which ended in mid-January. But his consistent attacks on progressive climate and environmental policies also seriously tarnished what has traditionally been considered a green state. New Jersey's new governor, Democrat Phil Murphy, has wasted no time reversing Christie's anti-climate change policies, many of which were clearly politically motivated (the guy thought he we going to be president).
On Monday, Gov. Murphy announced he was returning the state to the Regional Greenhouse Gas Initiative (RGGI), a multi-state cap-and-trade agreement designed to fight climate change. Murphy said Christie's decision to pull the state out of the pact in 2012 "lacked any common sense," adding that while New Jersey had long been a model for environmental policy, the state "lost that part of our soul" under Christie.
The New York Times wrote an editorial supporting the move, and saying that while Christie claimed "he was trying to protect New Jersey ratepayers," a more likely explanation "lay in his nascent presidential aspirations."

In commending the decision to re-enter the cap-and-trade agreement, which will now help states from D.C. to Maine cut back fossil fuel emissions, former New York City mayor Michael Bloomberg said in an op-ed that 12 years ago former New York Gov. George Pataki, a Republican, launched the group, and that it's "great to see New Jersey get back in the ring."

But Gov. Murphy was just getting started.
On Tuesday, he announced plans to pull New Jersey out of a multi-state lawsuit aimed at blocking the Clean Power Plan, the Obama administration's national-level effort to reduce emissions from power plants that has come under increasing attack under Trump. Gov. Murphy said that Christie supported the lawsuit "despite a wealth of evidence that tougher limits on carbon emissions are necessary to ensure a healthier future for our state."
G/O Media may get a commission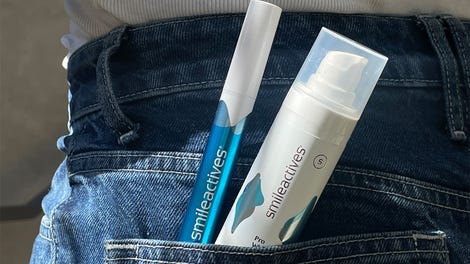 58% off
Whitening Powerhouse Pen & Gel Duo
Then, on Wednesday, Gov. Murphy struck another blow to Christie's diminishing legacy by ordering his administration to develop an offshore wind plan, something Christie had also come to oppose during his increasingly right-leaning tenure. Gov. Murphy has promised to help convert the state fully to clean energy by 2050 and wants offshore wind energy, of which the state currently has none, to provide enough power for 1.5 million homes (3,500 megawatts) by 2030.
As reported by NorthJersey.com, the state was poised to become the first to develop offshore wind way back in 2010 when Christie signed the Offshore Wind Economic Development Act, "but environmentalists say Christie stalled the development of a key funding mechanism in the ensuing years as he embarked on a presidential bid to appeal to conservative voters in states heavily dependent of fossil fuels."
So what's next for Gov. Murphy's environmental tear? Well, he's already announced his intention to join the state into the U.S. Climate Alliance, a bipartisan group of states committed to cutting emissions to meet the goal of the Paris Accord even as Trump has asserted his intention to withdraw the U.S. from the global agreement.
Why is New Jersey not already party to this alliance? You guessed it. Last year state lawmakers passed a bill that would have made New Jersey a member, only to see Christie veto it—in fact he "pocket vetoed it" as he left office. What a guy.
But, the bill is back in the legislature, and if it passes again as it's expected to, the state will be required to join the U.S. Climate Alliance once Gov. Murphy signs it into law.
Damn it feels good to be a governor.