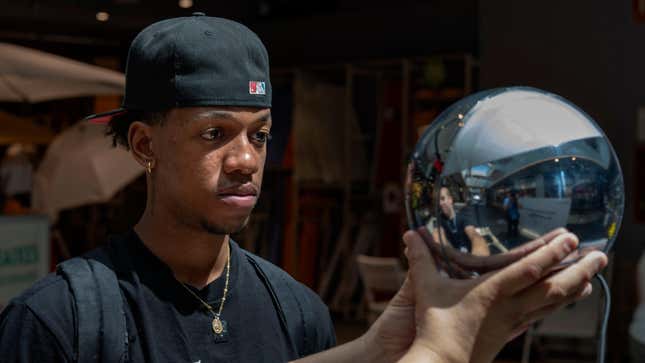 If you've already had your iris scanned for Worldcoin's crypto-based "free money" promise, your biometric investment has been cut in half since launch.
I Gave Sam Altman a Copy of My Eyeballs | Future Tech
Current prices for the WLD Worldcoin have dropped precipitously day after day since the coin first dropped on July 24th. As first reported by The Block, WLD's price has dropped from just below $2.50 at the beginning of August to about $1.31 as of Aug. 25, according to data by CoinGecko. That's a 44% drop in the past 30 days, and if it continues on this downward trajectory WLD's price will sink to single digits in another month's time.
To sign up for Worldcoin's apparatus, users need to have their iris scanned by a big, steel ball called an "Orb." This grants users a so-called World ID, a kind of know-your-customer proof that the person behind the account is indeed human and not some AI bot. All of this gets combined into the World app, which is envisioned to be a universal wallet for your WLD and a way to make payments.
The company claimed it received more than 2 million sign-ups for World ID by July 13, and during its launch, Worldcoin allocated more than 43 WLD tokens to its expanding user base. Worldcoin co-founder and AI figurehead Sam Altman promoted the "crazy lines around the world" for people to get their iris scanned just three days into launch.
The hype hasn't lasted long. Those who got their iris scanned were granted 25 WLD, which at its height was worth around $60. That same amount of tokens is now worth just a little over $30. Many others who bought in early could have much more in their crypto accounts, which if they held onto it until now would be worth half their initial investment. The only people happy are the short sellers who bet on Worldcoin tanking early.
Tools for Humanity, the company behind Worldcoin, declined to comment on the token's price. Instead, the company pointed to co-founder Alex Blania's recent tweet from Aug. 12 describing how the World App had 1.7 million monthly active users, though it had not been a month since the app's first release.
Part of the issue has long been its biometric data collection practices. Tools for Humanity has repeatedly claimed that users' iris data are anonymized and encrypted. As our friends at Quartz reported earlier this year, people living in the country's capital of Nairobi were enticed by the prospect of free money that was connected to a popular mobile money app M-Pesa.
Then, little more than a week after launch, Kenyan state authorities suspended the company's activities and declared they were investigating it over supposed security risks surrounding its eyeball-scanning tech. Local outlets also reported that Kenyan police raided the Worldcoin offices in the country just a few days after the country declared its investigation.
It's not like Altman has all his eggs in one basket. OpenAI is still his bread and butter, and if this project goes down it will be a footnote in his current quest to rule over both the AI business and AI regulation. But like all crypto that's disconnected from actual, tangible assets, the only thing dictating the price of its token is hype. Worldcoin's ambition, as described in its original white paper, has been to compete on the world stage, give money to the moneyless, and bank the unbanked.
It's the same thing crypto proponents have been saying since the inception of bitcoin more than a decade ago. They want to upset the current balance of traditional, state-offered currencies. Unfortunately, the current downturn in the crypto markets was brought about by companies like FTX which only disrupted the bank balances of its customers.