When the week starts with a massive volcano eruption and a major dog food recall, it can only go up from there. Or, you know, not.
Here at Gizmodo, it was a healthy mix of heartening and downright depressing. We saw a the fight to save net neutrality kick into high gear, while a major member of the scientific community was blacklisted after reports of alleged sexual assault. Meanwhile, another figure accused of sexual misconduct, Steven Seagal, is backing a new cryptocurrency bafflingly called "Bitcoiin," proving everything is roughly as terrible as we expect. Fortunately, if the latest numbers are any indication, it's probably doomed to fail.
What is not failing are these excellent Gizmodo stories from the past week. Enjoy.
G/O Media may get a commission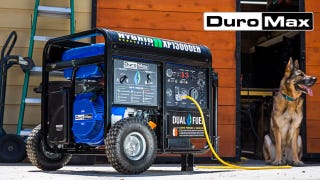 Black Friday Sale
DuroMax Generator Sale
Last August, James Damore circulated a memo internally at Google in which he argued women were biologically less inclined to succeed in engineering roles at the company and that Google's diversity efforts were misguided. In doing so, he set off heated debate among his co-workers—debate that, according to current and former employees who spoke to Gizmodo, led Google to ramp up its moderation of internal conversations and crack down on employees who speak up about diversity.

When a delayed launch left an S8-sized hole at Mobile World Congress last year, the start to the spring smartphone season felt a little so-so. Samsung wasn't going to make the same mistake again, so here it is, the new Galaxy S9 and S9+.
Owners of very good boys and girls might be perturbed by the latest recall to make the news: 27 brands of dog food pulled from warehouses for possibly containing pentobarbital, a sedative used to euthanize both pets and people alike. As Gizmodo has already reported, the recall concerns wet and canned dog foods manufactured by the J.M. Smucker Company as far back as 2016, and includes popular brands such as Kibbles 'N Bits and Gravy Train.

But while the recalled products probably don't contain high enough levels of the drug to pose a danger to anyone's precious pups, it's the fourth pet food recall to involve pentobarbital in the last two years. And that can't help but bring up questions of how exactly it keeps ending up in dog food, and how often it's really happening.
In 2014, the former Soviet nation of Uzbekistan announced a plan that it hoped would give it a leg up in future Olympic games: It would DNA test Uzbek children to determine their athletic potential. "We want to use these methods in order to help select our future champions," Rustam Mukhamedov, a scientist at Uzbekistan's Institute of Bioorganic Chemistry, told Radio Free Europe.
Uzbekistan was the first nation to screen the genes of its youth in search of future athletes. But it probably won't be the last.
FCC Chairman Ajit Pai joined the pack at the Conservative Political Action Conference (CPAC) on Friday alongside fellow Republican commissioners Michael O'Rielly and Brendan Carr—the architects of the recent order repealing net neutrality protections passed in the Obama era.

Upon taking the stage, it was announced that Pai was receiving an award from the National Rifle Association: a handmade Kentucky long gun and plaque known as the "Charlton Heston Courage Under Fire Award."
As city officials around the US continue to carve out incentives that might convince Amazon to build its new headquarters in their town, lawmakers in Oregon are having regrets about their own efforts to please Big Tech. A new bill there would repeal tax breaks that were intended to lure Google to deploy high-speed fiber—but ended up just lining Comcast's pockets.
Black Panther's Erik Killmonger is not a charismatic show stealer like Thor's Loki, or a profoundly deranged monster like Jessica Jones' Kilgrave, but he is easily one of Marvel's most compelling, heartbreaking, and relatable villains to date. Killmonger definitely isn't "good," but he isn't entirely "bad," either.
If you've been following all the buzz leading up to Black Panther's release, then you've probably seen the viral video of a group of friends hugging and enthusing over the movie's poster. Their energy served as a stand-in for the excitement of folks all over the world; now's your chance to find out who they are.

Look, it's hard to give a shit about budget phones. They often sport uninspired designs, lack any sort of innovative features, and frequently cut corners to hit those low, low prices. And with previous phone names like Pixi, Pop and Idol, Alcatel's previous phones seemed more concerned with the latest saccharine teen singing sensation than actual tech.
Dropbox, the company best known for nearly rescuing a ragtag group of emoji from a teenager's phone, has filed for an initial public offering.
Famously told it was doomed to failure by the late Steve Jobs, Dropbox reportedly began preparing paperwork for its long-rumored IPO back in July, which it kept under wraps until today. Following much the same plan of action, teaser trailers for The Emoji Movie cropped up around December of 2016, seven months ahead of its July 28 wide release.
Everyone has a Prime account now, don't they? It's become almost an afterthought—a utility bill paid once a year (or once a month) in return for fast delivery, a Netflix clone, a Kindle lending library, and some other bits and pieces. But is Prime such a no-brainer? Maybe you're tired of paying the richest man in the world, or you're eager to cut the cord that tethers you to the Amazon machine. Maybe you've become a monthly fee addict and are ready to break free. Whatever your reason, here's how to move on from Amazon Prime.