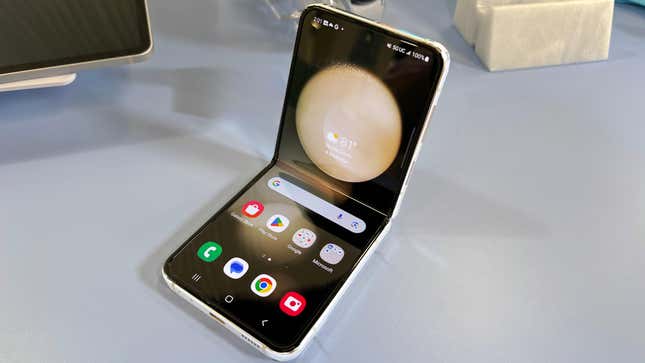 The biggest new product at Samsung Unpacked is probably its smallest folding phone. The Galaxy Z Flip 5 makes bigger changes to its design and functionality than the larger Fold 5, largely on account of having a bigger, more functional exterior screen.
Samsung Galaxy Flip 5: Hands-on first Impressions of Samsung's Pocket-Sized Folding Phone
Having had a chance to go hands-on with both the new Fold 5 and the Flip 5, both are solid incremental updates to existing products, but worth a look if you've been thinking of making the leap to a folding phone.
Samsung Galaxy Flip 5: Hands-on first Impressions of Samsung's Pocket-Sized Folding Phone
Samsung Galaxy Flip 5: Hands-on first Impressions of Samsung's Pocket-Sized Folding Phone
When flipped open, the 6.7-inch screen on the Flip 5 looks and feels a lot like any other modern smartphone, if a bit on the narrow side. While folded in half, it shrinks down to a tiny square that should fit into any pocket, and simultaneously keep the main screen protected.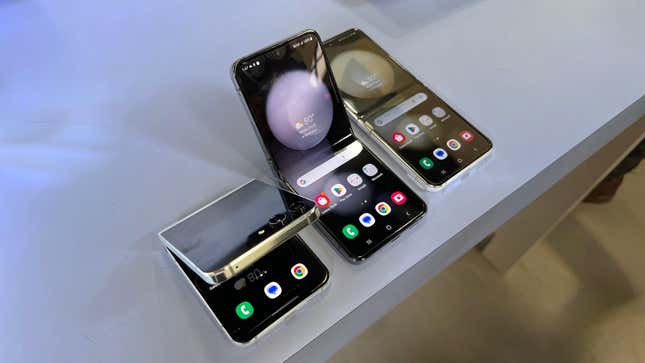 A bigger screen on the outside
The previous Flip models had a secondary outer screen. Unlike the Fold line, this Flip's outer screen was small, and frankly, not all that useful. This big upgrade here is that the outer screen goes from a tiny 1.9-inch model to a much larger 3.4-inch one, with added functionality and easier access to key apps and info.
The other main difference between last year's Flip and this one is the CPU, which goes from a Snapdragon 8+ Gen 1 to a newer Snapdragon 8 Gen 2.
Like the earlier Flip and Fold phones, some apps automatically recognize when the screen is half-folded and rearrange themselves to take advantage of that, including the Camera app and YouTube. Setting up the Flip as a self-contained selfie-cam is satisfying, as it acts as its own stand and preview monitor, and gives you a simple timer to allow time for posing.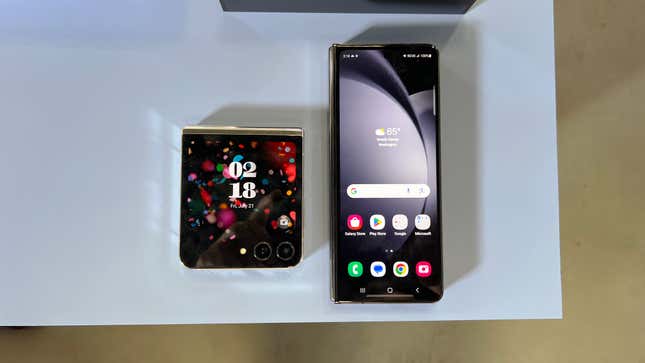 Less of a crease problem
Like every folding phone, there's still a crease in the screen material. It's more visible in some lighting conditions than others, and I found the crease on the larger Fold 5 phone much more noticeable under most lighting conditions. Even several generations in, it's a problem phone makers have yet to fully solve.
Stay tuned for a full hands-on review of both the Samsung Galaxy Flip 5 and the Samsung Galaxy Fold 5 as part of our ongoing coverage of Samsung Unpacked.
Pre-order the Galaxy Z Flip 5 here.
Galaxy Z Flip 5 vs. Galaxy Z Flip 4: Specs
---
Want more of Gizmodo's consumer electronics picks? Check out our guides to the best phones, best laptops, best cameras, best televisions, best printers, and best tablets. If you want to learn about the next big thing, see our guide to everything we know about the iPhone 15. Click here to save on the best deals of the day, courtesy of our friends at The Inventory.