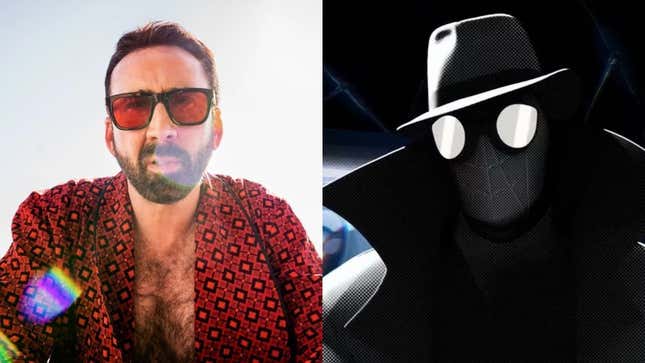 As a huge fan of Spider-Man: Into the Spider-Verse, I just kind of assumed all of the supporting Spider-people from the first movie would be back. We know about the big three (Miles, Peter, Gwen) for sure, but Spider-Han, Peni, and Noir? They have to be in there too, right? Well, maybe not.
io9 Interview: Oscar Isaac Was 'All In' on Moon Knight
Speaking to Screenrant, the voice of Spider-Man Noir, the legendary Nicolas Cage, made it seem like he would not be returning. "You'd have to ask Sony," Cage said. "I don't know what's going on with that. No one's spoken to me about that. Ask them. I don't know. I really don't. I wish they would. I love Spider-Man Noir, too. I think that's a great character. Spider-Man's the coolest superhero. And then you combine that with Cagney and Bogart and Edward G. Robinson, come on, it's a great character."
Now, Cage might be telling the truth here. Maybe no one has spoken to him about it and the character isn't in the film. Then again, maybe no one has spoken to him and it's because he's in the third film, not the second. Or, maybe, "no one's spoken to me" is just his polite way of not spoiling the movie six months before release. ("Ask the studio" is a very typical industry deflect, by the way.) Any one of those could be true. So, as Cage suggested, io9 did ask Sony and will update this piece if or when we hear back.
Personally, if I had to put money on it, I think he's back. Maybe not in the 2023 sequel, Across the Spider-Verse, but there's also the 2024 film Beyond the Spider-Verse to consider. It would just be wildly unorthodox and, frankly, disappointing to extend the story from Into the Spider-Verse by two movies, introduce a ton of new Spider-People, and then not bring back the fan favorites from the original at some point. Unless, of course, the story somehow revolves around their deaths or sacrifice and no voices are needed.
Basically, we have no idea, but we'll let you know when or if we do. Spider-Man: Across the Spider-Verse is out June 2.
---
Want more io9 news? Check out when to expect the latest Marvel, Star Wars, and Star Trek releases, what's next for the DC Universe on film and TV, and everything you need to know about the future of Doctor Who.