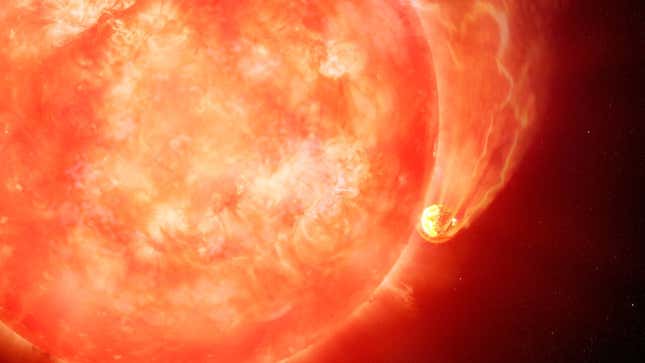 Astronomers think they're the first to see a star swallowing a planet, after piecing together a cosmic whodunnit in data collected by several telescopes.
First Full-Color Images From Webb Space Telescope
The host star and the doomed planet were spotted near the constellation Aquila, about 12,000 light-years away. The observed event happened over the course of 10 days in 2020; after a brilliant outburst, astronomers saw a cooler, prolonged signal for about 100 days. The team's analysis of the event is published today in Nature.
​​"We were seeing the end-stage of the swallowing," said lead author Kishalay De, an astrophysicist at MIT, in an institute release.
By the team's measure, the star was between 0.8 times and 1.5 times the mass of our Sun, and the planet it ate was between 1 and 10 times the mass of Jupiter, the largest planet in our Solar System. In total, the event ejected about 33 Earth masses' worth of hydrogen and about one-third Earth's mass in dust.
The devouring was noticed in data taken by the Zwicky Transient Facility (ZTF) in May 2020. One source brightened "by a factor of 100 over the course of a week," according to De, but also produced molecules that only exist at cold temperatures. That meant the source was not likely to be a binary system, in which two stars orbit and consume one another. "Low temperatures and brightening stars do not go together," De said.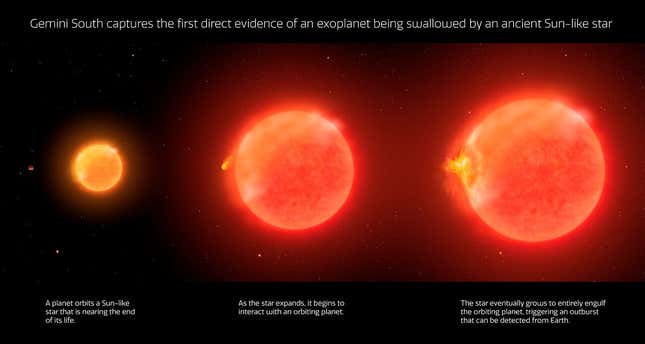 Additional observations were then collected at infrared wavelengths using a camera at the Palomar Observatory in California, which confirmed the presence of cold material. The cold stuff appeared to spew from the source over the next several months.
Measurements taken by the NASA telescope NEOWISE confirmed the source of the cool presence, by revealing that the total energy released by the star since it brightened was only 1/1,000th the magnitude of previous stellar mergers. In other words, whatever merged with the star to cause its brightening was much, much smaller. Ergo: a planet.
The researchers concluded that, toward the end of the meal, the star's outer layers exploded outward in cool dust, hence the prolonged signal after the initial bright event.
Documenting this event may help astronomers identify other planet-eating stars in the future. Eventually, Earth may well be consumed by the Sun as our host star expands in its death throes. Thankfully, the Sun won't die for about 5 billion years—long outlasting our kind or whatever we evolve into.