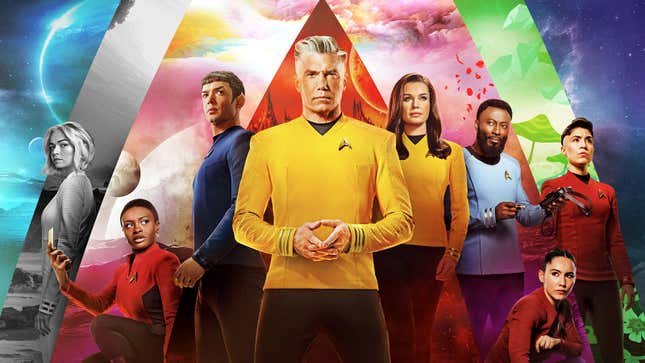 We might be just about ready to return to the U.S.S. Enterprise for Star Trek: Strange New Worlds' sophomore season, but if you missed out on the show's maiden voyage—one of the best TV series on the air last year—then we've got good news: the whole season is currently up on YouTube for free.

To celebrate Strange New Worlds season two in a few weeks, Paramount has released the first season in its entirety on YouTube to stream for a limited time. The big catch is that while Star Trek presents a future with a united earth, we don't have that right now: so it's only streaming on YouTube if you're based in the United States. I'm sure the most intrepid of Star Trek fans outside of the U.S. can boldly find a way to circumnavigate that without beaming themselves to a different country, however.
But however you're watching, if it's the first time you're watching if you're in for a treat. Although Star Trek as a franchise has had a historical reputation for rocky premiere seasons, unearned or otherwise, it's largely uncontroversial to say that Strange New Worlds came out with one of, if not the strongest debut seasons in the franchise across its first 10 episodes. Delivering a heady mix of classic Trek riffs that hit everything from full-on fantastical farce to chilling horror, and even extrapolations on some of the original series' greatest episodes, there's hardly a miss among the collection.
And if you're rewatching? Why not brush up with the help of io9's full season of Star Trek: Strange New World recaps and along the way—click through for links to our initial spoiler-free review of the season, and our spoiler-laden episodic recaps.