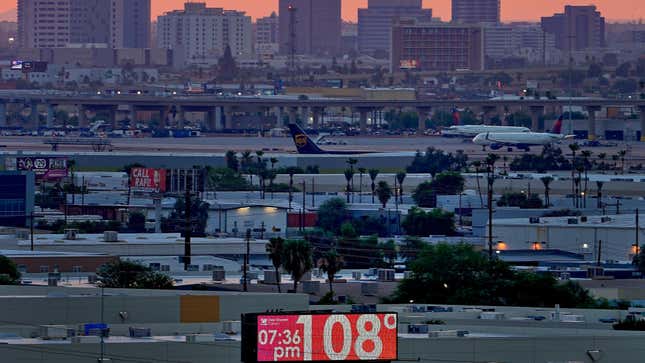 The climate crisis is going to expose more of the world to both hotter weather and heavy rainfall. This could create dangerous flood conditions new research has found. A study recently published in Earth's Future outlines how a lot of the planet is going to face down a combination of heat and floodwaters.
Hurricanes and Climate | Extreme Earth
When the combination of wet and hot conditions occurs, it can worsen widespread flooding. A heat wave comes first which dries out soil and vegetation, this reduces the area's ability to absorb the incoming water. When the region is struck with higher-than-average precipitation, that water does not penetrate the dried-out and hardened soil. It runs along the surface of the soil which contributes to flash flooding and landslides, the study said.
"These compound climate extremes have attracted considerable attention in recent decades due to their disproportionate pressures on the agricultural, industrial and ecosystems sectors—much more than individual extreme events alone," said Haijiang Wu, a researcher at China's Northwest A&F University and study researcher, said in a press release.
The team used several climate models to project how these climate change extremes will compound by the end of this century if our emissions continue to rise. The models showed them that South Africa and Europe are going to see drier conditions as temperatures rise. Other regions, like the eastern U.S., Australia, and Central Africa are likely to see higher rates of precipitation. How does this create the compounding extremes of hot weather and heavy rainfall? It's because our atmosphere can hold 5% more moisture for every 1-degree Celsius rise in temperature.
Study researchers pointed out that the world has already recorded several instances of how the wet-hot extremes have affected communities. Heavy rainfall in western Europe in 2021 devastated several countries including Belgium and Germany, according to the Copernicus Climate Change Service. Houses were severely damaged and more than 200 people died during the flooding. Much of Europe experienced a hotter-than-average summer that year, as well.
Earlier research has also found that wildfires, which are often worsened by heat waves and the dry conditions that follow, often make flooding in that area worse. If a large area is covered in a burn scar where the soil and vegetation were once on fire, the area cannot absorb water if the area floods soon after.
The recently released study comes as cities across the U.S. have broken extreme heat records. For example, Phoenix, Arizona experienced several weeks where the temperature reached 110 degrees Fahrenheit (43.3 Celsius). Communities around the country have also seen extreme flooding events this year. Cities across New England have been hit by several rounds of unusually heavy rainfall and flash flooding too. Leominster Massachusetts was hit by what meteorologists are calling a "200-year" rainfall event earlier this week. Almost 10 inches of rain fell in about 6 hours, which washed away roads and collapsed homes.
Researchers outlined that they hope their findings are used to "help stakeholders and decision makers develop a package of climate change adaptation strategies to manage and mitigate the risk of" these compound climate change events. "If we overlook the risk of compound wet-hot extremes and fail to take sufficient early warning, the impacts on water-food-energy security would be unimaginable," Wu said.
Want more climate and environment stories? Check out Earther's guides to decarbonizing your home, divesting from fossil fuels, packing a disaster go bag, and overcoming climate dread. And don't miss our coverage of the latest IPCC climate report, the future of carbon dioxide removal, and the un-greenwashed facts on bioplastics and plastic recycling.