If Miami is still around in 100 years, its residents should probably be thanking outgoing mayor Tomas Regalado's barista, who also happens to be his son.
Last month, voters approved the Miami Forever bond, a $400 million debt issue proposed in the last year of Tomas' Regalado's second term as Miami mayor. The bond will see $192 million go toward preparing the city for climate change, and millions more go to affordable housing. Its passage has implications not just for the city, but for other local governments wondering whether residents will be willing to shift resources to address climate resiliency.
While the bond was Tomas Regalado's idea, it was Jose Regalado, a one-time underwater photographer and now policy adviser to a Miami city commissioner, who decided to take over as his father's chief morning coffee brewer, and wound up convincing him climate change was a threat.
It's hard to believe the elder Regalado couldn't fathom the peril his city faced. Take any measure of climate change in the U.S., and the Miami metro area is at or near the top. It's number 1 for increased impacts from hurricanes, number 2 in coastal flooding vulnerability, and number 1 in projected overall increased average temperature.
But Tomas Regalado comes from Miami's Cubano-Republican old-guard, which is fearful of "big government," fiscally conservative, and generally set in its ways, as his son describes it. So the idea of anyone, let alone government scientists, telling them that their city would have to start making dramatic changes to survive was, for many like the elder Regalado, initially a non-starter. (Florida is also the state whose governor recently outlawed the words "climate change" from state communications.)
G/O Media may get a commission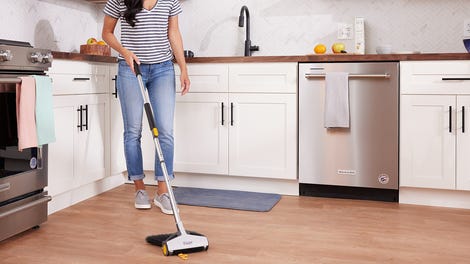 BOGO 50% Off
Flippr - BOGO 50% Off
"He was about filling potholes and fixing sidewalks, and he won," Jose Regalado told Earther. "By a huge majority."
So, until last month, no one was quite sure if the city of Miami was interested in taking on its climate problem.
And while many forces played a role in the referendum's passage with 55 percent of the vote, it was a son's desire to get closer to his father that set off the series of events that led to the vote in the first place.
Early morning rituals
Just before Tomas Regalado, who grew up in Havana, was elected as Miami mayor in 2008, his wife of more than three decades and Jose's mother passed away.
So, even as the elder Regalado took office to preside over his adopted hometown, a "cloud" loomed over the family, Jose Regalado said.
Before he got into politics, Tomas Regalado had worked as a news director for a local radio station. As mayor, he decided to keep his morning routine of waking up before dawn to read the news.
So, Jose Regalado began waking up with his father to talk about life and politics. For the first year or two of his father's administration, Jose worked pro bono for the mayor's office, and the morning discussions were mostly centered on those quality-of-life issues his father had run on.
Eventually, Jose Regalado, still in his mid-20s, decided to pursue his dream of being an underwater photographer. And after visiting places like Palau and Vanuatu, he realized the threat climate change truly posed to Miami—and began the process of explaining that threat to his father, moving back home around the start of Tomas Regalado's second term as mayor.
"I would bring out a white board, and we started from square one," Jose Regalado said.
Jose Regalado had long ago learned that his father liked to tackle issues granularly, so he began bringing out pieces of data that his father could digest, from YouTube videos to NOAA reports, to put together an image of what his city was facing.
Eventually, his father got it.
"My son educated me on climate change and sea level rise," Tomas Regalado, 70, told Earther.
But at the time (around 2012), Tomas Regalado felt the city was politically and fiscally powerless to do anything about it. They had just spent his first term on an austerity plan to restore the city's finances, and he'd spent no time on the issue of climate change in the run-up to his second term.
Plus, he admits, he was afraid others would continue to fixate, as he had, on the long time horizons of climate change's impact.
"Everyone thought...that something would happen in 100 years or 60 years," not now, Tomas Regalado said.
Jose Regalado thus realized that he would have to show the impact of climate change up close. So, he began taking his father around the upscale Coconut Grove neighborhood, where multi-million dollar condos had begun seeing water intrusion due to tidal flooding, to demonstrate that influential voters would eventually demand solutions.
Tomas Regalado grew even more motivated when his son, who by then had plunged headlong into climate issues, visited the 2015 Paris Climate Conference.
"[Jose] called me at 4 a.m. one day and said, 'Look there is a map of South Florida and especially Miami Dade County showing that we have the most exposed assets in the world," Tomas Regalado said. The amount of property along the city's ten-mile's worth of coast is worth multi-billions of dollars.
"He was able to put two and two together," Jose said.
So, the elder Regalado called up the city's finance team, and together they figured out a way to present a money-raising proposal that would set aside funds for a range of potential projects, from new pumps to improving seawalls to raising roads, without causing property taxes to increase.
"That would have been a deal breaker," Tomas Regalado said.
A near deal breaker
By the middle of 2016, Miami city commissioners were suddenly considering a plan brought by the mayor to borrow $200 million for flooding improvements. The bond would keep property taxes, raised several years before to pay off a previous bond, at that new rate to pay off the new loan for resiliency.
But it failed: The old-guard commissioners, the ones who'd helped bring Tomas Regalado to office, saw the bond as a result of big government climate change fear mongering.
"It was very difficult because members of the commission were not really in tune with the kind of language we were using," Tomas Regalado said.
Ken Russell, a liberal member of the Miami city commission, also voted it down as the swing vote. But he told Earther he did so because he thought that the public had not been consulted enough on the idea, and was afraid it would be rejected outright.
It turned out that what the public really wanted was more money for everything, which is how, over the next year, a $200 million climate change bond became a $400 million bond to pay for climate resiliency and adaptation, more affordable housing, economic development, and public safety.
A lucky visit, and an unlucky storm
Thanks to the bond's expanded purpose, commissioners approved a public referendum on the bond. Russell and another liberal commissioner, Keon Hardemon, were able to go out to their constituents and convince them the money was worth raising.
Then one day, in the middle of the referendum campaign, a group called the Seawall Coalition called Russell's office "out of the blue," wondering how they could better help the city address climate issues. When they found out about the bond push, Russell says, they decided to pledge $200,000 to get the message out.
Tomas Regalado admits that until the vote, it still wasn't clear whether a majority of Miamians would consider addressing the local impacts of climate change as worth investing in now.
But when Hurricane Irma hit in September, temporarily turning the city's financial district, Brickell, into a Venice on the Atlantic, momentum started to shift.

"Because of that, I think the people of Miami realized that this was not an expense but an investment in their future," Tomas Regalado said. He had chosen the name Miami Forever for the bond because some people had said the city would disappear in 100 years. Now, he believes, it will not.
Jose Regalado was right when he said the rest of the world was watching. Soon after the vote's passage, Bond Buyer magazine, which covers global credit markets, reported that credit rating agency Moody's saw the development as "credit positive" for Miami, because it would "support the city's economy and residents." Moody's subsequently issued a longer report clarifying that it was now taking into account at-risk cities' resiliency efforts when deciding their creditworthiness. That means that it will be easier for the city to borrow money in the future to do things like, say, get even more money for resiliency.
Abby Corbett, a lawyer that works with municipalities on legal issues surrounding resiliency planning, said the passage of the Miami Forever bond will be a boon for local leaders deciding whether to have referendums on resiliency spending. New Orleans, for instance, just voted in a new mayor who has stated she will prioritize sea level rise preparedness.
"It passed, and by a healthy margin," Corbett told Earther. "A lot of local governments are thinking about it."
An oversight committee is now in the process of being formed in Miami to make recommendations about how the Forever Bond should be spent. Some activists remain unsure about whether a city that with a history of mismanaging funds will keep its word to spend the money where voters asked that it be spent.
But the Bond's existence itself remains no small feat.

Rob Wile is a freelancer based in Miami. You can follow him @rjwile