The tiny town of Newtok, Alaska, is home to a mere 354 people. And they've gotta' move—quick. Why? Oh, you know it: climate change. Residents and state leaders have struggled over the last 20 or so years to find funding to begin the village's urgent relocation to nearby (and more inland) Mertarvik, but that's all changing now.
Congress passed a spending bill Friday, which President Donald Trump signed, that would double the budget of the Denali Commission, which is responsible for distributing money for these types of projects. The bill earmarks $15 million for villages like Newtok that are in dire need of relocation due to climate change-related erosion, flooding, and permafrost degradation, as KTOO Public Media notes. Pretty much all the money will go directly toward Newtok, Joel Neimeyer, the federal co-chair of the Denali Commission, told KTOO Public Media.

What is final, though, is the $1.7 million the Federal Emergency Management Agency's (FEMA) Hazard Mitigation Grant Program is awarding the village—a fraction of the $80 million to $130 million needed.

So far, the new site of Mertarvik is in the process of building eight homes (three of which are completed and are seasonally occupied), Sally Russell Cox, a planner with the Division of Community and Regional Affairs within the Department of Commerce, told Earther. This new FEMA money will buy out and demolish the current properties of seven families living in homes along the Ninglick River and help purchase the materials they need to get construction going on their new dwellings. The Ninglick River is crumbling toward the village at an average rate of 72 feet a year, according to a 2011 relocation report.
G/O Media may get a commission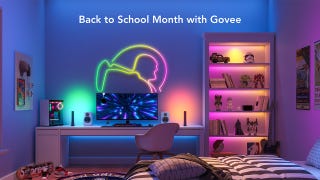 Back to School
Back to School Month with Govee Sale
This river isn't the only body of water that surrounds the Alaska Native village, either. A network of streams and rivers flow around the village, and the Newtok River flows right through it. This wasn't exactly a part of the decision-making to erect a town here, though. Indian boarding schools were! That's right. This site was "the farthest point upriver that the [Bureau of Indian Affairs] barge could navigate to offload school building materials," according to the Newtok Planning Group's history.
Anyway, all this water is, however, what brought their ancestors to this region. But landslides and eroding river banks have forced the Yup'ik to change course. The land is no longer fit for human habitation. However, the government is having a tough time finding avenues to fund the move because without infrastructure, it can't fund housing. But without housing, it can't fund infrastructure. And this situation is ineligible for federal disaster money because of how that process works. It's a whole dilemma, man.
Establishing a population in Mertarvik will prove key to triggering government decisions that'll really make the new site a community, according to Cox. Once enough people live there, the Federal Aviation Administration's got to construct an airport. Once enough kids reside in the town, a school's got to happen, too.

"[This new funding] demonstrates to the other communities that [relocation] can be done," Cox said. "It's not a fast process, but it can be done."
As Cox hints, Newtok isn't alone. Other Alaskan communities like Kivalina and Shishmaref need to move, too. And soon. They need a separate pile of cash. Now that the ball's finally rolling with Newtok, at least these other villages will have an idea of what to expect when that money finally comes in.
"What this does is it gives people hope, not only the people of Newtok but also the people of other villages looking at relocation in the future," said Cox. "And hope is really important."