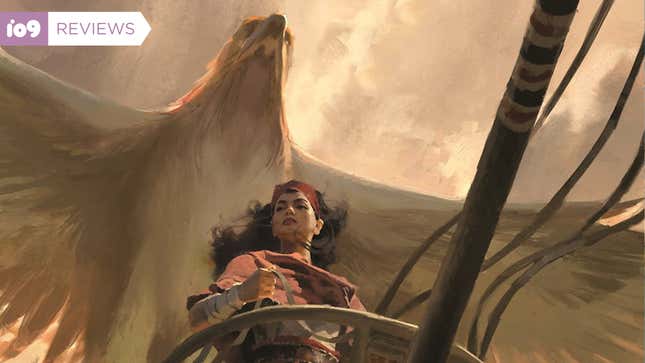 Combining ancient Persian mythology with the impossible-to-explain bond between pets and humans, Untethered Sky by Fonda Lee captures pain, guilt, and revenge in a single tidy novella. As man-eating manticores stalk the countryside, giant rocs, their only known natural predator, are trained up in royal mews by ruhkers as the first line of defense against the mythological killers. Ester becomes one of these storied ruhkers, and Untethered Sky follows her journey as she trains her roc, Zahra.

Apple's Vision Pro Seems Powerful, But Who Is It For? | Future Tech
With turns of phrase early on that hint at a future tragedy, Lee expertly lays the groundwork for a compelling story that is both succinct and satisfying. Writing a novella is incredibly hard–it requires a lot of balance to make sure that the payoff happens at the perfect time, and doesn't leave the reader thinking that they would have liked it to be longer. There is a strategy to novellas wherein an author expands an idea far beyond the bounds of a short story while avoiding detail bloat that a savvy editor would have cut down. Untethered Sky is just the right size for the story it tells, and it tells that story beautifully.
The worldbuilding in Untethered Sky is effective and constrained. Taking place in an alternative Sumerian-inspired world, there are subtle nods to the kind of mythology the story draws from. While there are hints of an epic scope contained in this slim volume (and Lee, whose other works include the Green Bone Saga, is more than capable of crafting epics), it takes a deft hand to reveal only what is needed for the story at hand rather than the stories that surround it.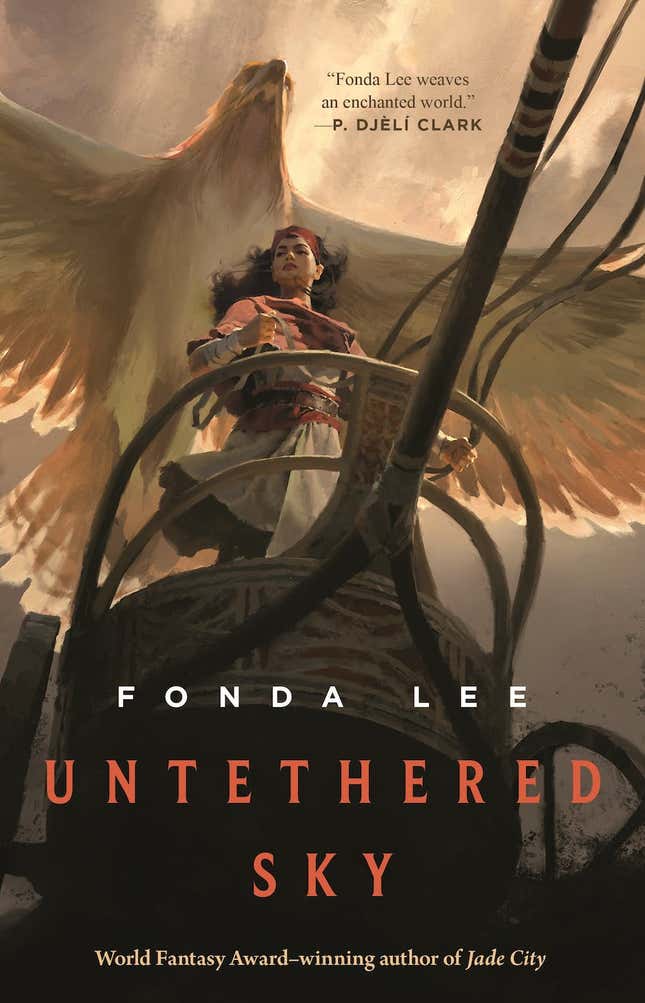 The novella begins with Ester's introduction to her roc, Zahra, as a young fledgeling. The following chapters contain a masterful description of falconry techniques blown to mythic proportions. Rocs, in Untethered Sky, have a wingspan of two men rather than the two feet of a peregrine falcon or goshawk. Everything becomes much more dangerous when the bird you're training could rip you in half. Added onto that is the fact that falconry is as much an art as a science. Ester has to teach the roc to trust her, but she also has to guess when Zahra is ready to be trusted.
In the middle of this exploration of the bond in between animal and trainer is the reveal of Ester's past. Told in between feedings as Ester desperately attempts to connect with this wild animal that cannot be tamed, merely satiated for a moment, her heartbreak and ferocity are echoed in the roc's own journey through the darkness. The book is full of these mirrors, as Ester and Zahra grow in parallel paths across the page. It's this tension that really drives the story forward; as much as the plot is about killing manticores, the heart is in the relationship between Ester and Zahra.
Here's the heartbreak: Zahra is a wild animal. She may tolerate Ester, may even listen to her, but what is wild will stay wild. Ester, to her credit, knows this. Untethered Sky also knows, and never shies away from the understanding that this is a tenuous bond. Seeing Ester's life built up around it, despite everyone knowing that it is a marriage of convenience, is what makes this book so deeply moving and sad. There is a kind of torture in loving something free, and then in recognizing that freedom in every thing.
---
Want more io9 news? Check out when to expect the latest Marvel, Star Wars, and Star Trek releases, what's next for the DC Universe on film and TV, and everything you need to know about the future of Doctor Who.