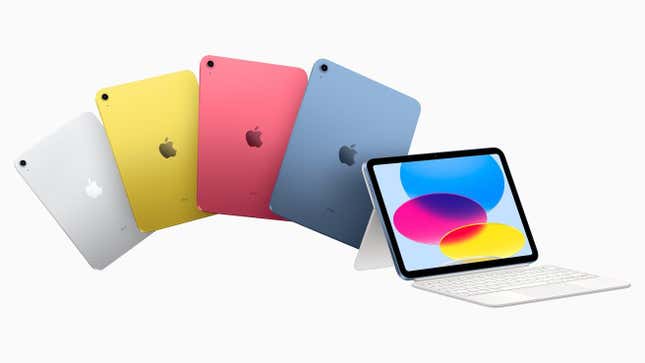 Apple has yet to fold on the lingering image of itself as a maverick. But now that Samsung, Oppo, and Huawei are releasing plenty of foldable devices, one oft-cited analyst says that Apple will need a full year and change before it can release its first foldable device.
The iPad Air with M1 Is the Tablet to Buy
Ming-Chi Kuo, a well-known supply chain analyst who has gotten in front of Apple's biggest announcements before, tweeted early Monday that Chinese electronic parts manufacturer Suzhou Anjie Technology is contributing to some kind of foldable iPad device.
The analyst said that the foldable iPad will include a carbon fiber kickstand manufactured by Anjie. Kuo added that because Apple is supposed to start mass production on an upcoming rendition of the iPad Mini in early 2024, that means this foldable iPad won't make its debut until much later next year.
Other than the supposed vague release date and info on a kickstand, there's not much else to go on based on Kuo's latest analysis. Fellow tech analyst Ross Young and Bloomberg columnist Mark Gurman mentioned in February last year that Apple might be diving into the foldables market with a hybrid iPad/MacBook with a 20 inch screen. That supposed device would act as a kind of clamshell when in put on the table like a laptop, with a keyboard displaying on the bottom portion, Bloomberg reported. For context, we've already seen similar form factors in the Windows space.
On Monday, Gurman took to Twitter to say he hasn't heard "anything" about foldable iPads for 2024. Instead, he reiterated that Apple will only be making slight improvements to the Mini and iPad Pros. Young similarly tweeted Tuesday: "Have heard about a 20.5" foldable notebook for 2025, but nothing about a foldable iPad for 2024."
Whether or not we actually see foldables from the Cupertino tech giant, Apple still has yet to reveal its big plans to make a splash in the ever-more crowded portables space. Last week, reports from Bloomberg noted that next year, iPad Pros could receive OLED displays. Earlier this month, Kuo also said new iPads and/or MacBooks could be getting an OLED display late into next year.
Apple is also reportedly diving into foldable phones, as Kuo wrote last May that the company was testing an E Ink display foldable phone that could come out in 2025. Although, similar rumors have been circulating year after year since 2016. Kuo had previously predicted a foldable release for 2023, but so far Apple has kept mum about any such device if it were in the works.
It's still disappointing to know some of Apple's most hyped devices are still years away. We likely won't see hide nor hair of its anticipated mixed reality headset until late in 2023, if at all. The Cupertino company is still licking its wounds from over $1 trillion lost market value at the end of last year. Apple also laid off around 100 contract workers in the midst of 2022, though the company cut much, much fewer workers than other tech companies, especially the likes of Google and Microsoft.
Update: 01/31/23 at 4:40 p.m. ET: This post was updated to include additional quotes and context from fellow analyst Ross Young and columnist Mark Gurman.