James Gunn says there could be a killer Groot-and-Rocket solo spin-off movie some day. Gwyneth Paltrow is willing to be Pepper Potts in Captain America 3. And has a massive Walking Dead rumor been debunked? Spoilers now!
Top image: Daredevil
Guardians of the Galaxy
James Gunn said that he thinks that any of the team members could get their very own solo film, as long as the right person is directing:
I'd like to see solo features from all of them. Obviously there's a great Rocket and Groot movie that could come out of this. I love many of the characters. I love all these characters so much it's hard to say who I would like to see made into a solo movie by someone else. It depends on who that someone else is. The truth is, I'd rather not see a solo movie made poorly by someone who didn't understand the character and whose heart wasn't in it.
---
Captain America: Civil War
Gwyneth Paltrow commented on the possibility of her appearing in the third Captain America solo film as Pepper Potts, given that we already know for certain that Tony Stark is appearing in the film, and that there's less and less of a chance of another Iron Man film. She told Dish Nation:
I don't know; I've heard rumors that maybe, and I don't know. My fingers are crossed. I would love to be Pepper Potts again at some point in my life.
G/O Media may get a commission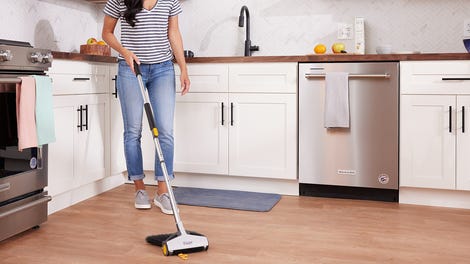 BOGO 50% Off
Flippr - BOGO 50% Off
[via Comic Book Movie]
---
Kingsman: The Secret Service
Here's a new UK trailer. [via Coming Soon]
---
The Walking Dead
There had been rumors that Beth would die in Sunday's midseason finale, which may be refuted by sightings of Emily Kinney on set during the very last days of filming this season. Even though she wasn't seen in costume, she could have been filming. Of course, later reports also say that the blonde seen on set is actually Alexandra Breckenridge, who was recently cast as Samantha, a bohemian artist and mother who is "an attractive, strong, smart, charming and articulate woman who also has a vulnerable side." [The Walking Dead Enthusiasts]
---
Daredevil
At the link you can see an interview with Rosario Dawson, who plays Claire Temple, aka the Night Nurse. (The comics characters of Claire Temple and the Night Nurse are apparently being combined for this series.) The Night Nurse is also a big part of Dr. Strange's world, and plays a major, pivotal role in the storyline Dr. Strange: The Oath, treating him after he gets shot.
So could Dawson's character cross over into the Dr. Strange movie? Asked this, Dawson responds:
Wouldn't that be awesome? Put in a good word for me.
[MTV]
---
Once Upon a Time
Lana Parilla says that Regina is trying to avoid the death that usually comes for villains. Of the search for the writer of the fairy tale book, she said:
I think that finding the author is a major priority, but it will happen over time. I'm excited to explore that. Villains deserve their happy endings, and I think that's something we're really going to explore on the back end [of the season]
---
Ascension
SpoilerTV has a preview of the first two episodes up, including a description of some of the characters that are introduced:
A Young girl called Christa Vallis (Ellie O'brien) who is one of the more interesting characters. She is in her teenage years, and feels she is an outsider which is only worsened by the sense of isolation. During the first episodes you will see that she is very different from the rest of the characters. She believes there are other people on the ship (other than the crew), and at one point even see's something that may or may not be there. It really kept me hooked.

Elsewhere we have Stokes who is very distrustful of the upper deckers, but his character is impulsive and, when pressed, very, very dangerous. Which you will see in the first two episodes. He also knows a lot more about the death of Lorelei than he first lets on. Viondra Denninger (Tricia Helfer) is the biggest game player on the starship, you will see in the first episodes how untrustworthy she is, and how she isn't loyal. She wants control, and will stop at nothing to get it. Lastly we have Dr. Juliet Bryce (Andrea Roth) who is the most dependable, upstanding person of the crew. She cares for everybody, and is always keen to follow the rules which you will see a lot off. She also gets entrusted with a secret.

The cast is huge, and there is way to many to talk about here. Some other highlights from the cast includes Al Sapienza, Gil Bellows and Tiffany Lonsdale who all make very brief appearances during the first two episodes. Gil Bellows's character looks set to play a huge part in the series, which I can't talk about since it will ruin the whole episode more importantly the ending, but he is definitely a character that will interest you.
More at the link. [SpoilerTV]
---
Flash
Here's a behind-the-scenes photo of the two actors, Robbie Amell and Victor Garber, who will play Firestorm. [via SpoilerTV]
?utm_source=partner&utm_medium=embed&utm_campaign=photo
---
Sleepy Hollow
Here's a clip from the midseason finale, "The Akeda":
---
The Vampire Diaries
Go here for more photos from the Decemeber 11th episode, which has flashbacks and Stefan being forced to break "devastating news" to Caroline. [TV Line]
---
Grimm
Go here for more photos from episode 4.07, "The Grimm Who Stole Christmas." [SpoilerTV]
---
Lost Girl
Go here for cast photos and here for more photos from the season five premiere, "Like Hell Part 1." [SpoilerTV, SpoilerTV]
---
Additional reporting by Charlie Jane Anders and Diana Biller