Late last month, news emerged that two European men had discovered a Nazi ghost train in Poland. Now, a pair of ground-penetrating radar images have apparently leaked, purportedly showing the train buried underground—including what appears to be a row of tanks.
The second of two ground-penetrating images was published late last week in the Polish newspaper Gazeta Wroclawska. The train is supposedly buried in the ground—and not in a tunnel as originally reported—in Walbrzych, which is in southwestern Poland. According to local legends, the train is packed with gold, silver, tungsten, and weapons. And if this image is to be believed, it also contains several German tanks.

(Credit: Gazeta Wroclawska)
The train is thought to have vanished in 1945 while the Germans were retreating from the Russian advance.
G/O Media may get a commission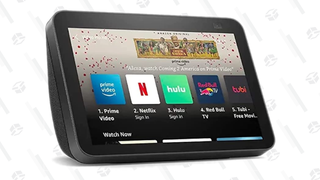 In late August, the ground-penetrating radar images convinced Polish Deputy Culture Minister Piotr Zuchowki of the train's existence, saying he's 99% sure it exists. Here's the initial image captured by the pair, who recently identified themselves as Andreas Richter and Piotr Koper:
(Via Business Insider)

Richter and Koper, who are claiming 10% of the train's value by law, say they will cover the costs of the train's retrieval, and then turn it into a tourist attraction. But as evidence of the train's existence mounts, Russia may try to claim the treasure for itself, setting up a potential international row with Poland.

Lawer Jaroslaw Chmielewski suspects the buried train holds no valuables, except some precious minerals. Uncertain of its contents, Polish authorities have brought in chemical weapons and explosives experts to inspect the site.
Alternately, it's very possible that this is all part of a rather elaborate scam. Dr. Jerzy Ziętek, who works out of the Polish Academy of Mining, told Gazeta Wroclawksa that he's made thousands of GPR readings, and none appear like the one in the image, adding that "the sections indicated as cannons have a different resolution to the other sections." In his opinion, this is a hoax.
Regardless, Polish military experts who visited the site are planning to proceed by clearing the area of trees and shrubs prior to inspection. Police are having to patrol the wooded, shrub-covered site to keep would-be treasure hunters from digging in the area.
[ Gazeta Wroclawska | Business Insider | BBC | AP 2 ]
---
Email the author at george@io9.com and follow him at @dvorsky. Top image by Gazeta Wroclawska