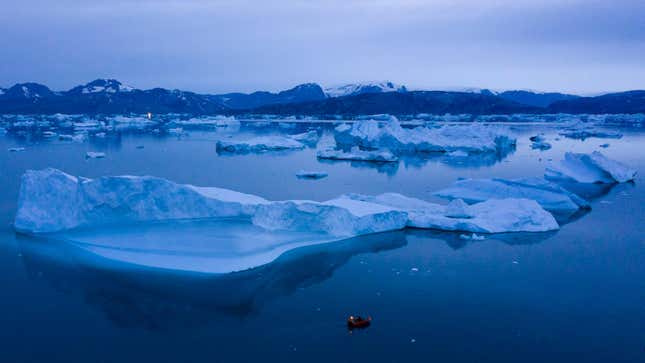 The world is set to reach new record temperatures within just a few years, as global temperatures are expected to rise 1.5 degrees Celsius above pre-industrial levels, the World Meteorological Organization announced today. And the incoming El Niño isn't helping matters.
Rob Savage on Collaborating with YellowJackets' Sophie Thatcher
There is a 66% chance that the annual average global temperature will be 1.5 degrees C above pre-industrial levels between 2023 and 2027, for at least a year, the WMO said. The upcoming five-year period is likely to be the warmest on record. However, this extremely hot period is expected to be temporary.
"This report does not mean that we will permanently exceed the 1.5°C level specified in the Paris Agreement which refers to long-term warming over many years. However, WMO is sounding the alarm that we will breach the 1.5°C level on a temporary basis with increasing frequency," WMO Secretary-General Petteri Taalas said in today's announcement.
Just last year, the WMO announced that there was a 50% chance of global temperatures reaching that 1.5 degrees Celsius threshold. Back in 2015, the world's chance of temporarily reaching that rise in temperature above pre-industrial levels was almost zero. According to the report, the planet will reach that global temperature in the next half decade due to two major factors: greenhouse gas emissions and the likely formation of El Niño this summer. The climatic shift leads to especially hot years. 2016, an El Niño year, was one of the hottest on record.
"This will have far-reaching repercussions for health, food security, water management and the environment. We need to be prepared," Taalas said.
This spring has already kicked off extreme temperatures across the globe. Earlier this month, Vietnam recorded its hottest temperature ever. Parts of South Asia were pummeled by a heat wave this April. Temporary or not, extreme heat is going to overwhelm our emergency response systems and damage infrastructure.
Want more climate and environment stories? Check out Earther's guides to decarbonizing your home, divesting from fossil fuels, packing a disaster go bag, and overcoming climate dread. And don't miss our coverage of the latest IPCC climate report, the future of carbon dioxide removal, and the un-greenwashed facts on bioplastics and plastic recycling.