Just because most of us bought iPads doesn't mean that any of you should. There are plenty of devices, out now or coming soon, that can do some things as well—or better. Here's a roundup of the best:
If you'd prefer to view this gallery as a single page, click here.
Apple iPad
To see how others compare, we have to look at the superstar, even though, by now, there's a small chance you might be just a little tiny bit oversaturated with iPad coverage. But for the sake of context, here's what the iPad is, and what it can and can't do.
G/O Media may get a commission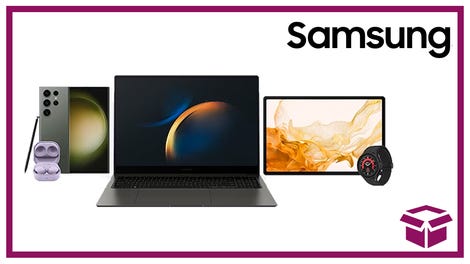 24 hour deals
Discover Samsung - Daily Deal
With the iPad, you're getting a tablet computer with a 9.7-inch (1024x768) LCD display running iPhone OS 3.2. It's got a 1GHz Apple ARM A4 processor, and is available with either 16GB, 32GB, or 64GB of flash storage. You can opt for Wi-Fi only or 3G, and the prices range from $500 to $830. By all accounts, it's a fast little bugger.
You also get access to Apple's App Store, with an increasing number of apps (including games) being designed in "HD," that is specifically for the iPad. It gets a listed 10 hours of constant use battery life, and a full month of standby.
Sounds good! Until you hit the creeping list of the iPad's faults: No camera. No USB, just one 30-pin port (with an optional camera-only USB add-on). Can't play Flash animation or video. Problematic on-screen keyboard. And of course, no multitasking, though this one may get resolved in a coming OS update.
That's a lot of compromises to make, and a lot of holes for the iPad argument. The following seven devices—from tablets to smartbooks to netbooks to ebook readers—are alternatives that come with many of these holes already filled in.
Notion Ink Adam Android Tablet
Notion Ink doesn't have much of a track record in the United States, but a clean slate may work to its advantage. Their Android-based Adam tablet boasts a sleek enough design, but more impressive are its Tegra 2 guts and promised 16-hour battery life. It'll output at 1080p on its 10-inch, 1024x600 display, which the iPad can't. It has a 3MP camera—on a swivel, for front and back facing—HDMI and USB ports where the iPad has none, and yes, a browser that supports Flash.
Secret Weapon: The Adam's Pixel Qi screen is downright revolutionary. It's got a backlit LCD mode for web browsing, but can be easily switched to a low-power electrophoretic reflective mode—which looks a lot like E-Ink—that's easier on the eyes for eBook reading and bumps battery life up to a purported 160 hours.
Achilles Heel: The screen, the manufacturer and the device are all untested. Aside from a hands-on with a prototype at CES and some leaked video, we haven't seen much of Adam, and won't be able to even passively endorse it until we do. It's one thing to promise the moon; it's another to deliver it.
Dell Mini 5 Android Tablet
The Dell Mini 5 is the smallest tablet on our list, but that's not necessarily a bad thing. Mark found it "very light and comfortable to use" in his hands-on at CES, and also lauded Dell's iteration of Android for its ease of use. The Mini 5's multitouch 5-inch LCD display makes it conceivably pocket-sized, and it's got a speedy 1GHz Snapdragon processor under the hood along with Wi-Fi, 3G and Bluetooth connectivity. The two features that really stand out, though: a 5MP camera, and the ability to make phone calls. Dell's been coy on other specifics like price and release date, but the Mini 5 occupies a unique space as a truly portable tablet/phone.
Secret Weapon: That SIM card. While holding the Mini 5 up to your head may look a little Zack Morris-esque, it's a device that answers the question of why you'd ever want—or be able afford—both a phone and a tablet. It's an all-in-one solution that, at least in our first impressions, seems competently executed.
Achilles Heel: The size. As the Sony Rolly proved once and for all, "unique" doesn't necessarily equal "good." In the case of the Mini 5, the screen seems too small to fully enjoy content on, while the device is too big to comfortably use as a day-to-day phone.
HP Slate Windows 7 Tablet
While Android seems to be the operating system of choice for most tablets coming out this year, HP has thrown its lot in with Microsoft. That's given their Slate a high-profile CES introduction from Steve Ballmer, and the confidence to tout their Flash capability. And at a reported $540 MSRP, it's at least competitive with iPad pricing, though it won't launch until June at the earliest. So wait: a tablet from a reputable company that's got more functionality than the iPad and costs around the same? I'm listening.
Secret Weapon: HP clearly thinks Flash is going to be the differentiator, and they've been hitting that point hard in their marketing so far. But the more important point may be that the Slate's going to be packing more processing firepower than most of the competition. If they can find a way to harness that without sacrificing too much battery life, it'll be a formidable device.
Achilles Heel: Even though HP will put a TouchSmart skin on top of Windows 7, it's still Windows 7. And as Jason pointed out last month, Windows-based tablets have a terrible track record. Why would Microsoft's newest Tablet PC do any better than a decade of flops? This Windows Phone 7 tablet concept—and the mysterious Courier OS lurking somewhere on the horizon—has us wondering if HP even chose the right Microsoft platform.
Lenovo Skylight Smartbook
Smartbooks are a bit of a sleeper category, since no one really knows what they are yet. Lenovo's Skylight has the form factor of a very thin netbook and the guts of a very powerful smartphone. Think of it as a tablet with a physical keyboard. It's an aesthetically pleasing, light-weight Wi-Fi device that'll be paired with AT&T for 3G. It runs a custom OS that's fun and easy to use, and Lenovo's pre-loading it with several "web gadgets" (apps, basically) to round out your experience.
Secret Weapon: That keyboard. If smartbooks are going to succeed at all, it'll be because people will tire of the unsatisfying on-screen typing experience tablets provide. And at our hands-on at CES, it was much more comfortable and convenient be able to email and navigate at full speed.
Achilles Heel: Apps. When the rest of the competition has Android, the Apple App Store, or whatever Windows brings to the table, Lenovo going solo is either a bold move or a stupid one. There's no question that the Skylight rates high in usability, but when it's released it may not offer all that much to use.
Acer Aspire One 532g Netbook
During the iPad unveiling, Steve Jobs notably said that netbooks "aren't better than anything." But there's a slew of netbooks coming this summer that may be better than the iPad. The first of these is going to be the Acer Aspire One 532g, with Intel's latest and greatest netbook processor, the Atom N450 and a next-gen Nvidia Ion processor with Nvidia Optimus technology. What's all that mean? That it's going to be the most capable netbook ever, and far more powerful than any tablet. You'll even be able to play 3D games on it.
Secret Weapon: That Nvidia Ion 2/Optimus combination is going to change some minds about what netbooks can and can't do. The Aspire One 532g is going to have up to 10 hours of battery life, and you'll be able to stream HD video, play World of Warcraft, and generally handle graphics processing better than any netbook of this generation.
Achilles Heel: It's going to be a great netbook... but it's still a netbook, which doesn't quite scratch the same itch that the iPad does. It'll be bulkier. It may cost more. And it won't have the same instantly gratifying app experience.
Kindle Ebook Reader
The Kindle is the granddaddy of eBook readers, and it's still our favorite on the market. It's got a crisp, sharp display, a solid refresh rate and most importantly its e-ink display is easy on the eyes. That's an important contrast for people tempted to use their iPad primarily as an ebook reader: Apple's LCD screen is going to wear out some people's eyeballs. The Kindle may be one-dimensional, but its price reflects that: At $260 it's about half the cheapest iPad's cost, and a lifetime of 3G connectivity is included in that fee. Throw in a full week's worth of battery on a single charge, and the Kindle starts to look pretty appealing for the literary set.
Secret Weapon: Being different. Going the straight black-and-white book route, and being the best at that particular game, will win some people over. But Amazon isn't going to rest there. They are also exploring more tablet-like multitouch concepts for their device, which may prove to be yet another powerful tool in the arsenal.
Achilles Heel: Even though Amazon opened up an SDK recently (with partners like Zagat and EA already on board), the Kindle's still a very long ways off from being anything other than an ebook reader. The black-and-white screen may just be too boring, and too slow. And although they have a lot of clout, their goal of a more multicolored multitouch experience may prove too little too late.
Spring Design Alex Ebook Reader
When John got a hands-on with the Spring Design Alex, he saw it as an ebook reader "for hardware nerds." Sounds promising. The Alex is a dual-screen Android ebook reader, with one large e-ink display coupled with a (still sizable) secondary LCD screen. Best of all, it'll run apps written for other Android devices, though getting them installed at this point is not an easy feat, since it doesn't have Android Marketplace on board.
Issues aside, the Alex represents the best of both worlds: a full app experience coupled with a soothing e-ink display for reading. And while Borders isn't as flashy a content partner as Barnes & Noble or Amazon or Apple's iBooks store, you'll find a plentiful selection and competitive pricing. Currently, you can only pre-order a Wi-Fi version, and because of heavier broadband demands than, say, Kindle, if a 3G Alex does show up it'll likely require a monthly data plan.
Secret Weapon: The Barnes & Noble Nook has a dual screen as well, but only the Alex has a browser, and lets you push content from the LCD up to the e-ink display. That means you can navigate to a web page and let it render on the bottom screen, then view it on e-ink. It's more than just a parlor trick: The ability to read web pages on the larger screen will make long usage periods much more manageable for your eyeballs.
Achilles Heel: That price is a little out of control; it's hard to imagine paying $400 for an ebook reader—however many apps it can run, and however clever the hardware set-up—when you can get a content-spewing tablet for just a hundred dollars more. Besides, although we haven't run our review yet, it's clear that this device will be limited, in some ways, to tinkerers who want to push its Android possibilities.