Jon Favreau reveals a few key secrets of the Cowboys & Aliens trailer. See Green Lantern villain Hector Hammond in all his disgusting, mega-brained glory. Watch another Tron Legacy featurette. Plus Spider-Man, Fringe, Doctor Who, The Walking Dead, and more!

Cowboys & Aliens
Director Jon Favreau offered some insights on the recently released trailer. He noted that the shot of Daniel Craig waking up alone in the desert is indeed the first shot of the movie, and that the idea to having him wake up wearing the alien shackle came from Steven Spielberg. He also clarified that the wires seen in the trailer aren't an unfinished effects shot, and that the aliens really are using devices with a practical element to them to abduct people. [MTV Splashpage]
Green Lantern
This new image shows the awesomely disturbing (not to mention disturbingly awesome) visage of villain Hector Hammond, as played by Peter Sarsgaard. [/Film]

G/O Media may get a commission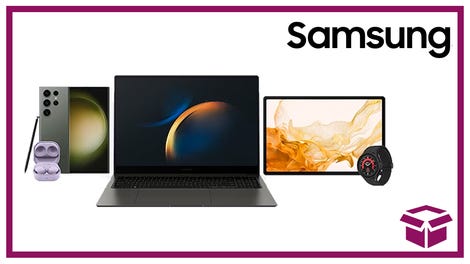 24 hour deals
Discover Samsung - Daily Deal
The Dark Knight Rises:
Christian Bale says that this third Bat-movie will be the last time he plays Bruce Wayne — unless Christopher Nolan tells him otherwise. (Which seems a bit odd, because I could have sworn that Bale was under contract for a few more Bat-films. But maybe he's just contracted for the three he's already doing.) [E! Online]
Spider-Man Reboot
Chris Zylka, best known from Hannah Montana and Cougartown, is reportedly joining the cast as Flash Thompson, a high school classmate of Peter Parker's who goes from bullying tormentor to eventual friend. [ComicBookMovie]
Tron Legacy:
Here's another new featurette, this time focusing on the new movie's cool-looking vehicles. [We Are Movie Geeks]

1000 A.E.
Will Smith's son Jaden Smith will be starring in this movie directed (but not written) by M. Night Shyamalan, and here's what young Jaden had to say about it:
"We're reading the script right now. I don't want to give it away because that wouldn't be tight, but it's set in the future and it's about a journey."
Not exactly a huge revelation, but I think we can all safely assume the "A.E." bit stands for "After Earth", much like in the somewhat forgotten animated movie Titan A.E.. [Entertainment Weekly]
The Crow
Mark Wahlberg says that he won't be appearing in a remake of Brandon Lee's final movie, and, contrary to some reports, he was never all that close to doing it in the first place:
"We never committed to making the movie. They talked to me about it and there was a director attached who I was a fan of, and he's no longer doing it. We just thought about it – 'is there something cool to be done there?' But we're not committed to making the movie."
Doctor Who
The synopsis is out for "A Christmas Carol":
Amy and Rory are trapped on a crashing space liner, and the only way The Doctor can rescue them is to save the soul of a lonely old miser, in a festive edition of the time-travelling adventure, written by Steven Moffat. But is Kazran Sardick, the richest man in Sardicktown, beyond redemption? And what is lurking in the fogs of Christmas Eve?

Amy Pond is played by Karen Gillan, Rory Williams by Arthur Darvill, The Doctor by Matt Smith and Kazran Sardick by Michael Gambon.
And here's a teaser image for the special:

Fringe
Promo photos are now out for the ninth episode, "Marionette": [SpoilerTV]

The Walking Dead
A couple promo photos and a brief synopsis are out for episode 5, "Wildfire": [Daemon's TV]
Rick leads the group to the CDC after the attack. Jim must make a terrible life and death decision.
No Ordinary Family
Here's a quick sneak peek at tonight's episode, "No Ordinary Accident": [No Ordinary Family Online]
The Event
Lisa Vidal, who plays the First Lady, said there's more coming up soon for Mrs. Martinez:
Christina has not had a lot of scenes so far. Are we going to see more of her coming up?
Yes. Yes you will. There's going to be some good stuff coming up for Christina. I can't share any of it, but they're going to come. I think that now that they're starting to get more into the character, now that they've set [up] the idea of the show and the plot and what's been going on, now you're going to get to know the characters a lot more and it's just much more involved.

A lot of people have wondered if Christina is a sleeper alien.
Wow. That would be really interesting. I don't know. They haven't told me that. Right now it has more to do with Christina being involved in what the Vice President has created for the family. They'll be addressing more of that.
As she explains, she's in the dark about most key secrets of the show, but click the link for her own theories. [Fancast]
Eureka
Here's a promo for "Fa La La", next month's holiday special: [SpoilerTV] Click to view

Stargate Universe
Here's a brief synopsis, a bunch of photos, and a sneak peek at the next episode, "Visitation": [Daemon's TV]
The Destiny crew members who chose to remain on the alien planet somehow cross the galactic void to meet with Young and the others.
Sanctuary
Here's a sneak peek at episode 7, "Breach": [SpoilerTV] Click to view

Locke and Key
Building on yesterday's crew announcements, it's now being reported that Miranda Otto will be playing mother Nina Locke on the show. [Deadline]
The Cape
Another promo trailer is out: [CapeSite.net]
Additional cast photos have been released: [CapeSite.net]

Being Human
Here's another promo for the US remake: [SpoilerTV] Click to view

Additional reporting by Michael Ann Dobbs and Charlie Jane Anders.