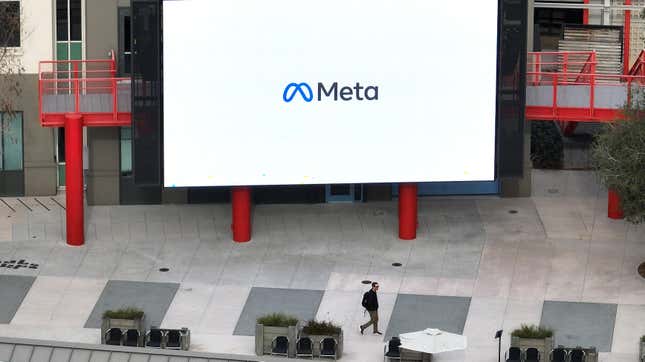 While Twitter deals with daily chaos and mounting debt, its biggest competitors are thinking they can do tweet storms even better than the ol' blue bird. On Friday, Meta confirmed that it was working on a new stand-alone app for sharing Twitter-like messages.
Even Twitter Can't Kill Twitter | Letter From the Editor
A company spokesperson wrote to Gizmodo:
"We're exploring a standalone decentralized social network for sharing text updates. We believe there's an opportunity for a separate space where creators and public figures can share timely updates about their interests."
The spokesperson declined to share anything further, though the statement came after Indian business news site Moneycontrol first reported on Friday that this new app would be interoperable with the same system that Twitter-like app Mastodon uses. The elephant app is powered through ActivityPub, a decentralized social networking protocol that provides a client/server API that allows for posting tweet-like content and for post moderation.
What's more, MoneyControl noted based on a product briefing that this early rendition of a Twitter clone, titled "P92" would be branded using Instagram. Users would register using their Instagram login. Instagram users would reportedly have their profiles and data transferred to the new platform even if they never decide to log in.
The New York Times previously reported back in December that Meta had been hashing out a new kind of Twitter-clone to take advantage of the now-routine chaos happening at Twitter.
There's already a "decentralized" Twitter-like experience called Bluesky, which just recently hit Apple's App Store in invite-only, beta form. In that case, the network is working on a Merkle Tree design, rather than the separate decentralized instances that Mastodon employs. Twitter co-founder and ex-CEO Jack Dorsey was the one to kickstart development of that app, long before the newfound Twitter owner Elon Musk first offered to put up $44 billion to take the company private.
As Twitter has become more wonky and divisive since Musk took over, Mastodon's seen a surge of new users. This caused some early problems for the multiple instances hosted and moderated by community members, most working in their spare time. However, Mastodon's API has shown an overall decline in the number of folks regularly keeping up with the app.
Instagram already introduced a "Notes" feature last year to share short messages with friends or followers. In P92's case, Instagram would basically act as the bridge between existing users and Meta's new Twitter clone. An unnamed source with knowledge of the matter told MoneyControl that users could "broadcast posts" to people on other servers. The new app would also employ sharable images and videos and use bios very much like Twitter, and, of course, there will be verification badges. Last month, Meta instituted a new subscription system to hawk verification badges, much like Musk has done.
For all the ways Mastodon is similar to Twitter, it's still separated into thousands of volunteer-run servers covering a wide variety of topics and internet scenes. Twitter is a cesspit, but at least with a cesspit you don't have to go looking in multiple places for any quality nuggets coming out of the blue bird community. Adding yet another app based on ActivityPub with multiple instances may just lead to an even further fragmented community of Twitter outcasts.
But, as MoneyControl noted, Meta wants P92 to use all Instagrammer's data for "analytics, product improvement, and ranking," whether they're regular users of the app or not. That could provide the company with a big head start on making it a mature, profit-making platform at a rapid pace.