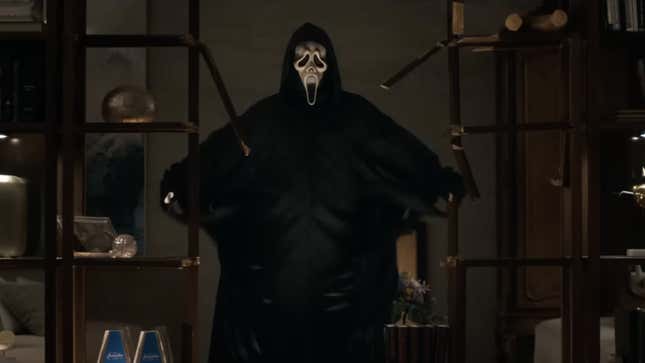 New city, new look. With Scream VI's shift away from Woodsboro, the ensemble—including Ghostface—got a makeover for the horror series' latest entry. io9 caught up with Avery Plewes, the costume designer tasked with not only outfitting the current cast, but also incorporating past character looks—as well as dressing a massive Halloween set piece during the film's memorable subway scene.
Jack Champion's Supernatural Fandom | First Fandoms
Sabina Graves, io9: Congrats on the film, I saw it couple of times and in 3D on the second go! So I got to take an extra close look at all the wardrobe and costuming. How did you become a part of this project with [filmmaking team] Radio Silence?
Avery Plewes: I did Ready or Not with the guys, so I have an existing relationship with them—we kind of always keep in touch and we're friends outside of work. [When] they found out they were going to Montreal, they texted me and asked me if I'd be interested. I was a little nervous to do a Scream movie just because the fan base is so passionate. It's an intimidating community of people who you want to impress. I read the script and I loved it being set in New York; I moved to New York when I was sort of the age of the kids. It felt really relatable for me in that sense. And so, yeah, it was kind of a no-brainer.
io9: That's awesome. I love Ready or Not. Was it an intentional bit to put Samara [Weaving, who stars in Ready or Not but also appears in Scream VI] in that white, long-sleeved turtleneck dress?
Plewes: Oh, at the beginning of the movie? It's actually more of a yellowy green. Yeah, it might look [white] on camera, but no, it was actually kind of a hybrid nod to Tatum [from the original Scream]. It's a very similar color to her turtleneck top, and then also kind of a nod to Samara's yellow Converse from Ready or Not.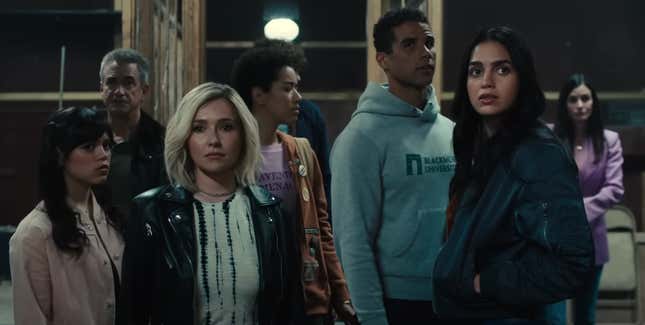 io9: The core four this time around have very distinct looks. Can you talk a bit about bringing them into more of that New York college scene?

Plewes: I really wanted to make sure that they felt connected to what Emily Gunshor did in the previous film—like an evolution from what she'd kind of already established but a little bit more metropolitan. The kids are out of Woodsboro and they're kind of trying to each carve out an identity for themselves outside of being haunted, quite literally by Ghostface. So yeah, that was kind of the starting point.
io9: It's a horror film with really badass female leads; you did an awesome job creating looks for Sam and Tara and Gale and Mindy. You could see their personalities jump out through that. I really liked the Halloween sequences, both the house party and the train scene. Was it wild to source all those costumes for the metro scene?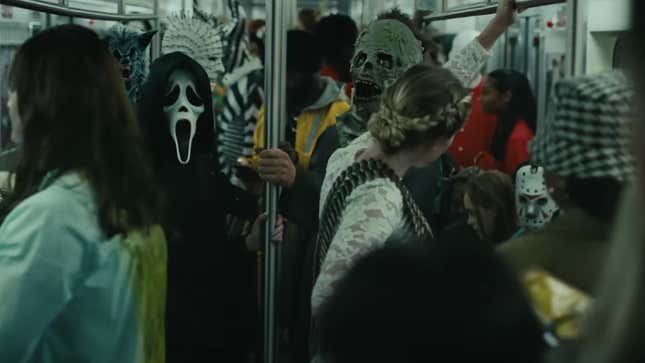 Plewes: It was a huge, huge undertaking and I started working on it my second week of prep. We didn't shoot it until I think midway or towards the end of the schedule, but I knew that it was this opportunity to create a really cinematic moment. I worked really hard trying to create this really exciting, captivating moment. It feels like the climax of the film because after the subway, [that's] when the pin drops, story-wise. I felt like creating this huge level of suspense visually on the subway would really help guide the audience into the next act.
But yeah, sourcing the costumes was for sure a challenge. The biggest challenge was making the Halloween costumes look like Halloween costumes—because normally as costume people, we want everything to look really pristine and beautiful and as close to the original thing you're duplicating as possible. But with Halloween costumes that normal civilians put on, it's often like, "Oh, I only have this pair of Nike shoes in my closet" and "I have this old denim shirt." It was sort of reinventing the wheel of costume design, in a way, for me and my team. We all found it kind of challenging. It was like we had to put on new glasses or something to kind of execute it. But it was it was super fun. It was a mix; a lot of thrift store stuff. Fun World (which has the rights to the Ghostface mask) sent us a ton of costumes, and we bought from Halloween stores. Then we ordered certain specific things online. We treated it like how any normal person would source a Halloween costume: a little bit from home, a little bit ordered online, and a little bit from a Halloween store.

io9: Was it pretty easy to clear all the IP to be in the film? I saw people dressed as, like, the Tethered from Us and The Babadook.
Plewes: Yes and no. There were certain things to do with props that we couldn't use. I was able to kind of get away with a lot of that stuff. So that was a luxury for my department.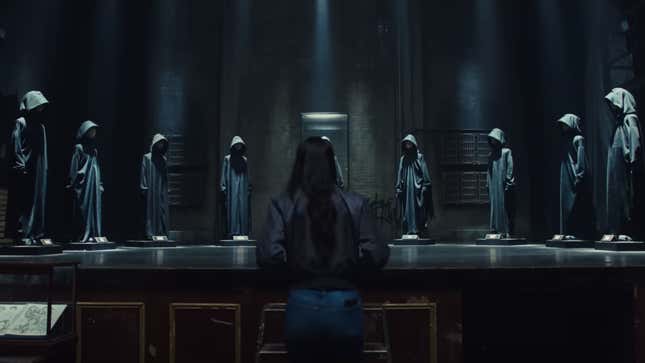 io9: Obviously the big set pieces at the end with all the different Ghostface robes really homaged the legacy of killers. What was it like to recreate the hooded look for a museum—and yet make it compact enough to easily to pack in a backpack, apparently?
Plewes: I mean, the fabric is pretty packable. So it wasn't too tricky. It's one of those things where you have to make slight alterations to what would actually be the reality of what you would find in a store. It's working with the silhouette and how the directors wanted Ghostface to fill up as much space as possible and feel anonymous as possible. And so with that, you literally try to take up as much space with fabric in silhouette and the cut of the garment. That was sort of our approach.
io9: At any point, was there talk of having the original costumes from those films along with those masks, or was always just like, we're going to keep it to just the mask and then have the different robes established?
Plewes: Oh, like on the stage? Not that I'm aware of. I think it was always the robes. And then there are the costumes from the previous films elsewhere. And all of those are reproductions. None of those are real—there's some stuff from [Scream] five that is real. I had an assistant who solely just worked on the museum with the art department. I worked to execute the garments as close to the originals as possible, down to the Ghostface boots that you don't even really see at all.
io9: I was blown away by all past victim costumes!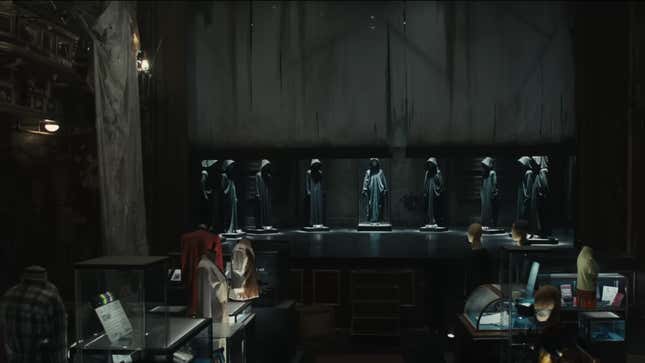 Plewes: You know, Tatum's top was actually from a rental house. We bought a men's sweater that was the same texture as her top, and we dyed it and recut it into the actual shape. There was a lot of buying things that were similar, and then augmenting them to to what the original looked like. And then there are the exact pieces that were in the movie that we found on Poshmark or eBay. Emma Roberts' costume from [Scream IV]—those are all the exact pieces that were in it, because my assistant Miriam was able to find the Scream auction images and then match the brand to what was online. So that was really cool that she actually found the legitimate pieces.
io9: Oh, wow. That's incredible. The power of Google images!
Plewes: I know, right? The fanbase was really my secret weapon in recreating all of this, because I don't know if there's another franchise in the world that has such extensive information available online. From the robes to the Ghostface boots to—I could go on and on but there's the the level of detail that these fans go to, it's my kind of level of detail. So I was very grateful and appreciative of that. It made my job much easier.
Scream VI is in theaters now.
---
Want more io9 news? Check out when to expect the latest Marvel, Star Wars, and Star Trek releases, what's next for the DC Universe on film and TV, and everything you need to know about the future of Doctor Who.