2017 has been a brutal year in northern California, where a series of wildfires have burned through hundreds of thousands of acres of land and left dozens dead or missing. The deadly Tubbs fire in northern California, which is estimated to have burned roughly 5,300 buildings across 36,807 acres and killed at least 22 people, also took out irreplaceable documents which traced the rise of massive PC manufacturer Hewlett-Packard (now two separate companies) and the early years of Silicon Valley earlier this month.

According to the Press Democrat, the wildfire blazed a trail through the Fountaingrove headquarters of Keysight Technologies, a spinoff of HP spinoff Agilent Technologies, and burned down a modular structure where the personal and business papers of late HP co-founders William Hewlett and David Packard were stored. Appraisers had estimated the documents were worth up to $2 million in 2005; former HP staff archivist Karen Lewis told the paper that the archives had previously been kept in special, flame retardant-lined vaults.
"This could easily have been prevented, and it's a huge loss," Lewis said, adding the documents should have been stored at a public institution. She said when she had put together the collection in 1988, "I realized, 'Oh my god, this is the history of Silicon Valley ... This is the history of the electronics industry."
Jeff Weber, a spokesman for Keysight Technologies, told the paper that they had taken "appropriate and responsible steps to protect the company archives," but said the "most destructive firestorm in state history" defeated attempts to protect the collection. He added that a large portion of the archives were still in HP's hands.

G/O Media may get a commission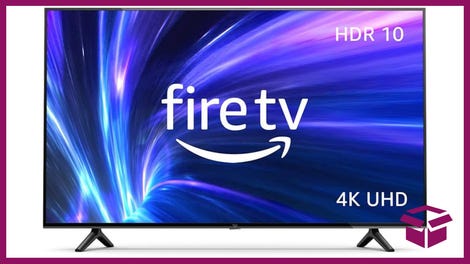 42% Off
Amazon Fire TV 50" 4K Smart TV
Hewlett and Packard founded the eponymous company in 1939 in a Palo Alto garage that the company now refers to as the "birthplace of Silicon Valley." According to the Press Democrat, the Fountaingrove facility in Sonoma County was established in 1975 and "consistently focused on testing and measurement equipment," which helped lay the groundwork for the company's later development of more advanced devices like personal computers.
While the devastating wildfires which ripped through northern California in 2017 have mostly been contained, reports CBS News, the recovery effort will likely take years. The threat posed to the region by wildfires is growing, and scientists say the blazes have been exacerbated by climate change-related patterns of increased drought followed by periods of heavy rainfall, which creates large amounts of fuel.
Update 10/30/2017: Weber has forwarded Gizmodo some additional context on the items which were lost in the blaze, saying Keysight is "saddened by the loss of documents that remind us of our visionary founders, rich history and lineage to the original Silicon Valley startup." He added Keysight "met and exceeded the strictest standards for archival protection," and that the documents were stored on-site at their campus because the company concluded they would be better preserved there.

The remainder of Weber's statement follows below:
A portion of historical archives for Keysight Technologies, including items from the company's time as part of Agilent Technologies and Hewlett-Packard, were among property lost when a building at Keysight's Santa Rosa headquarters was destroyed in the Tubbs Fire on Oct. 9. Among the items lost are some documents from founders Bill Hewlett and Dave Packard.

Many parts of the Keysight archives were not affected by the fire. A number of historic products were undamaged because they were situated in other parts of the Santa Rosa facility that sustained only minor damage. Other company archival materials, such as historic products, product catalogs and manuals, some correspondence by Dave Packard and other company research collections, were also unaffected because they are housed at other Keysight locations. Additionally, some archives had been previously saved digitally and as a result also were unaffected by the fire.
Update 10/31/2017: An HP spokesperson wrote to Gizmodo to note that many parts of company history survive in its possession or the public trust, including those at its archive in Atlanta, Georgia:
HP's sites were not impacted and archives remain intact in both physical and digital formats. HP's archives contain hundreds of items related to HP's founders including many examples of speeches, personal correspondence, writings and other materials. In addition, many other materials from the founders are part of public collections, such as the William Hewlett papers (1907-2010) held by Stanford University.