Urbanspoon: The steady stream of iPhone-to-Android apps continues with Urbanspoon, the app for when you're all "OMFG I can't decide where to eat." Unlike most who make the trip, however, it's actually just as good as the iPhone version. The basic gist is that if you're the indecisive type, you can set up to three parameters—price, location, type of food—shake, and it'll give you a nearby restaurant. Or you can just search for what's nearby, but that's boring. Update: Take note! It only works on the Droid and Nexus One! The Android cracks are starting to get painful.

WordPress: Almost uninterestingly straightforward, unless you have a WordPress blog and want to update it for Android, anyway. It's the official WordPress app that'll let you run multiple blogs, moderate comments, and get comment notifications when people start anonymously calling you a d-bag on your blog. And, it's totally open source.

G/O Media may get a commission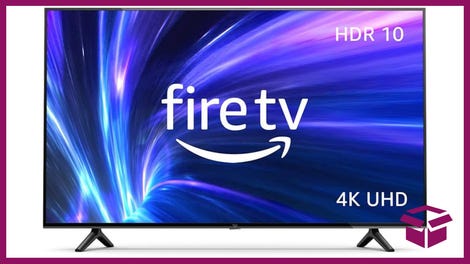 42% Off
Amazon Fire TV 50" 4K Smart TV
TripIt: TripIt's a travel organizer that helps you keep up with everything from flights to hotels and restaurant reservations through smart itineraries. The Android app lets you manage your online TripIt itineraries from your phone, and taps into Android powers like Google Maps for directions to wherever you're going. Possibly the essential Android travel apps.

Google Maps 3.4.0: Two words: Multi. Touch. For Droid users anyway. And it works beautifully. (Nexus One people got the update OTA.) Also new in Maps, but for everybody, is synchronized starring and personalized recommendations—if you star a place on your desktop, it shows up in mobile Maps too (as long as you're signed in).

Fandango: I've been a Flixster user, but I'm damn sure going to use Fandango's Android app for the next month, since they're waiving the service fee through March 7. It's not as information rich, but the key point is that you can buy your movie tickets directly from the app.

NPR News: Um, it's NPR. If you don't listen NPR, I hear on the radio somewhere that makes you dumber, or something. No live broadcasts for another couple of months, but you have full streaming access to previous shows and podcasts, along with top news stories and local stations. Oh, and the best part about the Android app is that you can listen to NPR while you're doing other stuff, since it can run in the background.


MightyMeeting: An app that lets you control PowerPoint presentations remotely, from your smartphone—you have to use the (free) service it's attached to, but once your presentation is uploaded, you can invite people to see it, and control it from your phone.

Yelp: The Yelp app for Android sucked kinda hard when it first came out (after our last roundup), but with the latest update, it's a whole lot better—you can actually login, upload photos and share information via SMS or Facebook—and it bodes well that they're updating it pretty fast, so hopefully it'll be on par with the iPhone pretty soon.

Sensorly: Don't trust AT&T or T-Mobile's coverage maps? You can check out Sensorly's, who's building their own maps—for Wi-Fi too—using your phone as a scout. It's a little confusing because there's not just one Sensorly app for each carrier, and for the US right now it's limited to T-Mobile and AT&T. Still, handy, and worthwhile project.

Slidescreen: The best homescreen replacement app we've seen for Android. I'll let Dan take it away:
SlideScreen gives you access to the information within the apps that you want. Tapping on any individual update, like a tweet or an email, takes you into the corresponding app (in this case, it might be Twidroid and Gmail), but you can just look at the homescreen and get the gist of what's happening in your phone.
And it's super fast and super polished. Suck it, non-jailbroken iPhones, with your useless lockscreens.

Seesmic: Yeah, I've featured it once, but with the latest updates, it's worth pointing out again, now that is has excellent multiple account support (a huge deal), a built-in spellchecker, stream stickiness (it remembers where you were) and some interface improvements that make it the nicest Twitter app on Android.