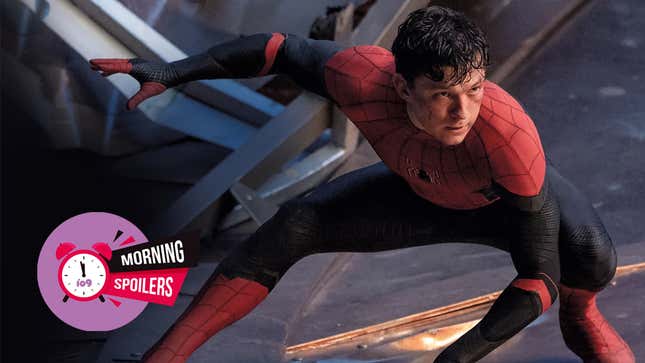 Jess Bush teases getting to know Nurse Chapel more in Strange New Worlds season 2. Things get down right insidious in a new trailer for The Red Door. Plus, what's coming on Superman & Lois and Gotham Knights, and get one last look at Transformers: Rise of the Beasts before it hits theaters. Spoilers get!
Chris Pratt and Bryce Dallas Howard Nerd Out About Jurassic Park's Returning Heroes

Spider-Man 4
During a recent interview with Yahoo! Entertainment, Tom Holland stated his Peter Parker will "swing off into the sunset" if Marvel "can't find a way to compete" with Spider-Man: No Way Home.
---
Untitled Rob Savage Project/The Boogeyman 2
In addition to a potential sequel to The Boogeyman, director Rob Savage revealed to DiscussingFilm he's also working on a project he describes as "The Hills Have Eyes for the next generation" with the producers of Barbarian.
I'm actually doing a movie that I'm really f—— excited about which I think could be The Hills Have Eyes for the next generation. That's an original movie that I'm working on with the same guys who did Barbarian actually, the same producers. And then we've also got really f—— great idea for a Boogeyman sequel that everyone's really excited about. It's not what you would expect from a big studio movie sequel, but it's really terrifying. I'm really excited about it. So if this film doesn't bomb, maybe that could be next! That's on the horizon as well.
---
Mission: Impossible - Dead Reckoning, Part 1
The latest Mission: Impossible movie is now 100% complete, according to Christopher McQuarrie on Instagram.
Mission: Delivered

Congratulations to the best cast and crew on the planet and thank you for choosing to accept.

Thank you Paramount Pictures for believing in the impossible.

And thank you to our friends and families for your limitless love and support during the making of this film.
---




Insidious 5: The Red Door
Patrick Wilson encounters a demon haunting an MRI machine in the latest trailer for Insidious: The Red Door.
---
Transformers: Rise of the Beasts
Paramount has also released a final trailer for Transformers: Rise of the Beasts ahead of its release this Friday.
---
Fear the Walking Dead
According to Deadline, Isha Blaaker will play "a pivotal recurring" character named Frank in the final season of Fear the Walking Dead.
---
Star Wars: Ahsoka
Rosario Dawson stated she's "manifesting" a second season of Star Wars: Ahsoka in a new interview with Empire.
I'm absolutely putting it out into the universe. We're joking about it, but I'm manifesting it because I feel like I helped Dave manifest this role. So I'm ready. I'm excited. I'm willing. I got my ice-packs ready to go for Season 2 and beyond! I would not be mad at that.
---
Star Trek: Strange New Worlds
During a recent roundtable interview attended by Screen Rant, Jess Bush promised the second season of Strange New Worlds will further explore Christine Chapel's relationship with Dr. M'Benga.
There is definitely a lot of deepening of the relationship with Chapel and M'Benga in this season, and we get to go through a lot together. And it's something that I've really enjoyed. I think it's been a really beautiful deepening of both of their stories separately and entwined. Very heartful.
Babs Olusanmokun echoed her statement, adding we'll additionally learn "their past history" together and how they both "came to be."
We're going to see some of their past history, how they came to be, how they came together, as compadres.
---
The Lord of The Rings: The Rings of Power
Filming has reportedly wrapped on the second season of The Lord of the Rings: The Rings of Power.
---
Outlander
Jamie must rescue Claire from the gallows in the synopsis for "A Life Well Lost," the seventh season premiere of Outlander.
Jamie races toward Wilmington to rescue Claire from the gallows, only to discover that the American Revolution has reached North Carolina.
---
Superman & Lois
Lex Luthor is released from prison in the trailer for "Injustice," next week's episode of Superman & Lois.
---
Gotham Knights
Finally, the Gotham Knights plan to "unmask" the Court of Owls in the trailer for next week's episode.
---
Want more io9 news? Check out when to expect the latest Marvel, Star Wars, and Star Trek releases, what's next for the DC Universe on film and TV, and everything you need to know about the future of Doctor Who.