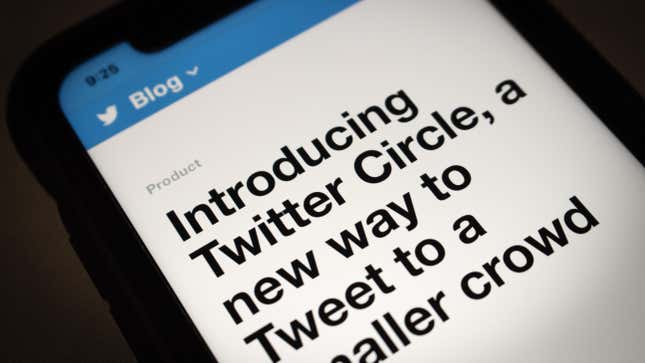 Elon Musk's Twitter is circling the drain, though at least its Circle feature finally seems to be working properly. That's important, because recently the feature was failing at keeping its supposedly private tweets private. In emails sent to users, the company finally admitted its system for allowing users to share tweets to a select group of followers had been borked, calling it a "security incident."
Twitter Verification is a Hot Mess
Last month, Circles users reported that their private tweets were somehow accessible by outsiders, even some non-followers. Users outside those circles were able to see and even like those tweets. The situation proved to be a problem, especially for users who shared some very sensitive or private information through their Circles. This led to some users being able to access some nude images not meant for people outside their group.
In an email shared with Circles users, Twitter finally admitted that there were issues with Circles. The company said "this issue was identified by our security team and immediately fixed so that these tweets were no longer visible outside of your circle."
The company did not explain why its Circles feature experienced those issues, but claimed it's "committed to protecting the privacy of the people who use our service. We understand the risks that an incident like this can introduce and we deeply regret this happened." Twitter also did not explain why some users complained that some private accounts' tweets or subscriber-only content were being proliferated among the wider Twittersphere.
Of course, any attempt at contacting Twitter would result in a "💩" emoji response, so there's no point in asking what caused the issue in the first place.
Twitter, as a company, is now technically X Corp, and in the half-year since Musk first bought the platform, the platform has faced both technical issues and a fight for its very soul. Over the last few months, Twitter's monetization efforts have led to increased polarization as those who pay for Twitter Blue have been cast as Musk sycophants or are otherwise major far right figures given more leeway on the billionaire's more hate-prone platform. 
Twitter has suffered multiple glitches and other issues since the company laid off more than half its global staff. A bug let users keep their "verified" blue checkmark even after Musk put the feature behind a $8 paywall. There's also been issues with vanishing tweets and routine issues with links and pictures not appearing in posts. In the meantime, Musk has inferred he wants users to pay for the privilege of seeing followed accounts in their feeds.