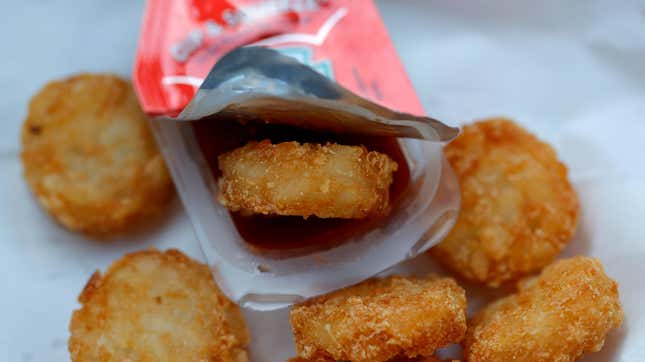 Far-right activists have taken a shotgun approach to their supposed "anti-woke" crusade, and now some of that buckshot shrapnel has hit favored brand among religious conservatives, Chick-Fil-A. The chicken sandwich chain has come under fire for daring to have a page and executive dedicated to diverse hiring programs, even though its inclusion initiative has been ongoing for years.

Does Beyond Meat's Plant Have a Mold Problem?
On Chick-Fil-A's page describing its diversity, equity, and inclusion efforts, the company included a statement from its VP of diversity, equity, and inclusion, Erick McReynolds. "We are committed to ensuring mutual respect, understanding, and dignity everywhere we do business." This statement sat alongside the company's stated purpose of wanting "to glorify God by being a faithful steward of all that is entrusted to us."
As Rolling Stone reported Tuesday, far-right podcast host Joey Mannarino wrote on Twitter over the long weekend complaining about Chick-Fil-A's front-facing DEI program, calling it, "...bad. Very bad" then adding "I don't want to have to boycott. Are we going to have to boycott?" He complained about how the company "just hired" McReynolds, though the exec has been with the company for more than a decade.
This was followed by a round of tweets from other conservatives figureheads like right-wing provocateur Ian Miles Cheong and conspiracist Stew Peters. The latter of which wrote "Chick-Fil-A CEO Dan Cathy says ALL whites should get on their knees and shine black peoples' shoes."
Gizmodo reached out to Chick-Fil-A for comment, but we did not receive any on the record statement. We will update this story if we hear more.
What Mannarino and other far-right muppets may be concerned to learn is that McReynolds and DEI have been with the brand for years. According to his LinkedIn, the VP was previously the executive director of the company's DEI program before being named as VP in 2021. The company has been part of industry-wide DEI initiatives like the DEI Board for years.
However, the company had already tripped into the wandering crosshairs of the far-right earlier this year when the company introduced a cauliflower-based sandwich. The chicken sandwich chain is headed by the openly religious Cathy family. The conservative brand has long been a favorite among the right-wing for its overt Christian sentiments as well as anti-LGBTQ donations of its founders. None of that seemed to stop some conservatives from calling for a boycott over having the option for a plant-based sandwich.
DEI initiatives are routine across practically all major industries, but members of the far right have a particular antagonism toward any and all diversity pushes, no matter how tacit. Earlier this year, Florida Governor Ron DeSantis signed a law banning public colleges and universities from spending any state funds on DEI programs. On Monday, the Texas legislature pushed a similar ban on DEI for state higher education.
The anti-woke campaign among far-right online groups has gotten so intense, some don't know where to turn for their day-to-day products. Mannarino complained he only had a few clothing brands like Lacoste and Hugo Boss because other brands have displayed "woke activity." Unfortunately for him, both brands have DEI initiatives.
Before Chick-Fil-A, far-right activists were buoyed by supposedly successful attacks on Bud Light and Target. The latter of which claimed it removed or otherwise restricted LGBTQIA+-branded items after it received violent threats from online far right personalities.