Going to San Diego Comic Con is a lot like visiting the future — you spend a lot of time obsessing over TV shows and movies that won't arrive for months, or even a year or two. We just spent five days in San Diego, discovering all of tomorrow's entertainment obsessions, and now we're back with full documentation.
Here's the very best of what we saw at Comic Con 2012.
Top image: Iron Man's new suit unveiled at the Iron Man 3 booth, via Marvel.com.
First of all, the view from a dozen light years away. Here are our choices for the biggest winners and losers in Comic Con's perennial buzz wars. And here's our painstaking roundup of all the coolest displays, and things to buy, on the Comic Con floor. (Not to mention the most embarrassing advertisements.) Despite all the logistical challenges, this remained a once-in-a-lifetime event.
G/O Media may get a commission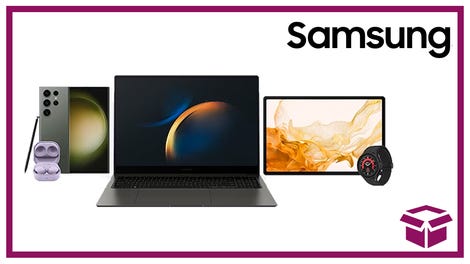 24 hour deals
Discover Samsung - Daily Deal
Movie Madness
Superhero movies still ruled Comic Con. Marvel's panel in Hall H included Robert Downey Jr. portraying Tony Stark, some thrilling Iron Man 3 footage, and glimpses of Ant-Man and Guardians of the Galaxy. Plus we saw Marvel's latest short film, Item 47. And Marvel's Kevin Feige explained to us how the studio can go back to solo films after The Avengers.
And meanwhile, our first sight of DC's Man of Steel included some mind-blowing flying and some hints about the movie's take on Superman's origins. And we were lucky enough to catch an early screening of the new Judge Dredd movie — and it blew us away with its intellect and non-stop action.
We caught our first glimpse of the giant robots and the giant monsters in Guillermo del Toro's Pacific Rim.
Neill Blomkamp's Elysium showed us some intense footage. But we also saw a giant model spaceship and some fantastic concept art.
And Looper, the time travel crime movie from Brick director Rian Johnson, looked like the noir time-travel movie of our dreams. And Johnson explained his theories of time travel to us.
Tim Burton showed us some hilarious footage from Frankenweenie, plus a huge exhibition of art from the film. Meanwhile, Sam Raimi showed us a new trailer for Oz: The Great and Powerful and also explained to us just how he's reinventing the classic flying monkeys. And ParaNorman impressed us with its blend of John Hughes and John Carpenter.
Some movies took the approach of showing a lot of footage, just to prove they were packing a punch. The final Twilight movie showed us the first seven minutes, and they were a visual treat. Ditto for ten minutes of Wreck-It Ralph, the surprisingly fantastic video game odyssey. And a dozen and a half minutes of The Hobbit went a long way to silencing the doubters. (Meanwhile, Peter Jackson told us he'd like to make The Hobbit a trilogy. And Sir Ian McKellen told us why Gandalf the White wasn't his favorite character to play.)
And the Total Recall reboot showed us footage that was heavy on shout-outs to the original.
There was even a banner for Robocop's evil corporation OmniCorp.
---
Greatest Fan Celebrations
Perhaps the biggest news at Comic Con wasn't about an upcoming project — it was Firefly's 10-year reunion, which will become a Science Channel special soon. We also attended a Q&A where Joss Whedon talked about the show's legacy.
And we learned from some of our favorite writers and scientists how actual science can make SF stories much, much better.
There were some great posters, including this awesome Comic Con exclusive Princess Mononoke poster from Mondo. And there were tons of exclusive toys for sale — if you could navigate the confusing ticket systems. Plus special Comic Con My Little Pony toys!
We saw some creative cosplay, including an Engineer from Prometheus, Disney villains, Disney princesses, Zombie Bilbo Baggins, a Roswell waitress, and a female Geordi La Forge.
---
Triumphant Television
Just like last year, television ruled a lot of Comic Con, with more shows than ever getting into the giant Hall H. And more excited conversations about Doctor Who and Game of Thrones than ever before.
Among the sensational TV panels, The Walking Dead showed us our first glimpses of Michonne and the Governor, and then the producers told us the naked truth about season three. And meanwhile, Game of Thrones unveiled some new cast members, and we heard from Alfie Allen why he's excited about Theon Greyjoy's future.
Doctor Who's panel raised the roof, and that was before we saw new footage of one of the weirdest juxtapositions in television history. Not only that, but we also spoke to the stars and producers about the heartache that's coming this fall.
We saw the pilots for five new TV shows, and two of them looked especially noteworthy. We also got excited about Steven DeKnight's space-war show Incursion.
We learned how Community will keep exploring the fictional world of Inspector Spacetime. And Danny Pudi told us which Comic Con panels Abed would go to. Meanwhile, the Futurama panel included a costume contest, a drawing showdown, and the "Fry meme."
We found out about an upcoming death on Falling Skies, discovered Syfy's TV/MMO crossover series Defiance, and learned which classic villain is coming to Once Upon a Time. We also Observed what's next on Fringe and Supernatural. And we found out some hints about who's back on Warehouse 13 this year.
In cartoons, we saw a bit of the How to Train Your Dragon spin-off, we explored the Teenage Mutant Ninja Turtles reboot, we saw Legend of Korra concept art, and saw Star Wars: The Clone Wars clips. Plus the Venture Bros. creators talked crazy talk with us.
And finally, we got a look behind the scenes of the upcoming Blu-ray release of Star Trek: The Next Generation season one.
---
And Finally, Comics
Even though movies and television generate some of the longest lines, comics still made waves at Comic Con. In particular, there was the announcement that Neil Gaiman is writing a Sandman prequel comic.
But also, we thrilled to our first glimpse of the comic called simply Star Wars, with Alex Ross illustrating Darth Vader. There was a sneak peek from Great Pacific, a science fiction comic about the Great Pacific Garbage Patch.
And in case you missed any comic book news, here's the best comics news from the Con.