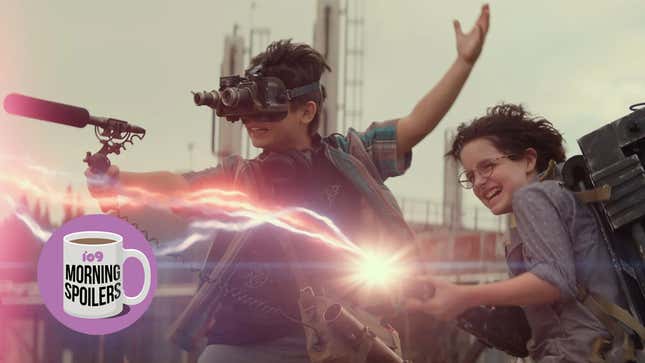 Could John Boyega be making a Star Wars return for the New Jedi Order movie? Scarlett Johansson says she is absolutely done as Black Widow. Lee Cronin already has wild ideas for an Evil Dead Rise follow-up. Plus, what's coming on Superman & Lois. Spoilers now!


Ghostbusters: Firehouse
Newly-leaked photos from the set of the Ghostbusters: Afterlife sequel confirm the returns of Ernie Hudson as Winston Zeddemore and William Atherton as Walter Peck.
---
Star Wars: Rey Skywalker
On the latest episode of The Hot Mic podcast (via Coming Soon), entertainment insider John Rocha alleged John Boyega will reprise his role as Finn in the upcoming Rey Skywalker movie.
I'll tell you this. I'll break this for myself. According to some sources I know, different sources, have reached out to me because of this show. And they have said to me, that according to them and what they're hearing, is that John Boyega will be coming back for this movie.
---
The Fantastic Four
During the same episode of The Hot Mic podcast (via Coming Soon), entertainment insider Jeff Sneider alleged Adam Driver has been offered the role of Reed Richards in the MCU.
I have, in fact, heard that Driver does have the offer. But this is what we talked about, I think it was 5 months ago, he was the very first name that we, or potentially anybody seriously anyway, had connected to Fantastic Four. I'd heard that he had…gone in for Reed. I mentioned Doctor Doom as well, but he already basically played Doctor Doom in Star Wars.
---
Black Widow
However, Scarlett Johansson continues to insist she's "done" playing Black Widow on a recent episode of Gwyneth Paltrow's Goop podcast (via Coming Soon).
I'm done. Chapter is over. I did all that I had to do. Also coming back and playing a character again and again, over a decade of time, is such a unique experience.
---
Superman: Legacy
Elsewhere, James Gunn stated he's "relieved" with the list of names up for the role of the DCEU's new Superman.
---
Faces of Death
According to The Wrap, pop star Charlie XCX will make her film debut in the narrative reimagining of 1978's highly controversial Faces of Death. Details on her character are not available at this time.
---
Evil Dead
In conversation with /Film, Evil Dead Rise director Lee Cronin revealed his ideas for a potential sequel—including one concept he likens to John Wick with a priest.
For me, actually what it was driven by is the idea that the force can't really be destroyed. So, even though there's someone adjacent to all the madness that has happened, that force can prevail and can kind of continue onwards. So, that's one pathway. There's also, there's a second storyline, a hundred years in the past that's shared in this. And that's also a storyline I've had boiling for what goes on behind that vinyl. You could go back in time. Then I've got one Priest versus a hundred Deadites. John Wick Evil Dead.
The challenge that was set for me was to move the dial with this world, to crack the world open in a different way. I hope I've been successful in doing that. I've actually left a few doors open to get inside that world. There is that wraparound and that wraparound is always there. I wanted to show the fans that I understand the world, I understand where it's been, but also here's the change, here's the needle drop, here's where we're going to go. We're going to go somewhere else.
Also there's the 10 minutes later story for those that ... the lucky ones that maybe just about make it out alive. There's that place also. And then equally, what about when the authorities show up at this building and find the carnage that's there? And if you remember, there's still some seriously hardcore remnants left in that building that could have an impact on a whole new set of unsuspecting factors.



---
Hysteria!
Variety reports Bruce Campbell has joined the cast of Hysteria! in an undisclosed "recurring role."
---
The Boys
During a recent interview with Variety, showrunner Ryan Kripke described the fourth season of The Boys as "Kramer vs. Kramer meets Avengers: Endgame."
Ryan is a really important piece of the story because he's half Becca, half Homelander. If Butcher can figure out how to get his shit together and get the kid back, that could be the single best weapon they have against Homelander. But vice versa. If Homelander wins the kid over, that's apocalyptic because then there's two Homelanders. It's like a child drama with apocalyptic stakes. It's like Kramer vs. Kramer meets Avengers: Endgame. So that will be a really rich story moving forward.
---
From
A "grisly discovery" is made in the synopsis for "Tether," the May 7 episode of From.
Kenny and Ellis make a grisly discovery out in the forest; Boyd struggles with the reality of what's happening to him.
---
Riverdale
Betty is forced to join the after-school dance show in the synopsis for "Dirty Dancing," the May 10 episode of Riverdale.
AMERICAN GRANDSTAND" — Fearing that Betty (Lili Reinhart) is going down the wrong path, Alice (Madchen Amick) forces her to join the after-school dance show, American Grandstand. Meanwhile, Kevin (Casey Cott) is forced by Tom (guest star Martin Cummins) to join the Riverdale High basketball team, and Veronica (Camila Mendes) finds herself cut off by her parents. KJ Apa, Cole Sprouse, Madelaine Petsch and Drew Ray Tanner also star. Jesse Warn directed the episode written by Aaron Allen (#707). Original airdate 5/10/2023.
---
Yellowjackets
Shauna goes into labor in the trailer for "Qui," this week's episode of Yellowjackets.
---
Superman & Lois
Finally, a new Superman & Lois TV spot teases the arrival of Michael Cudlitz's newly-released Lex Luthor.
---
Want more io9 news? Check out when to expect the latest Marvel, Star Wars, and Star Trek releases, what's next for the DC Universe on film and TV, and everything you need to know about the future of Doctor Who.