DC Comics heroes are no stranger to big crossovers that often see them hopping into other timelines or even other universes. Over the decades, marquee characters like Batman and Wonder Woman have wound up crossing paths with the likes of the Avengers, Ninja Turtles, and Epic Games' Fortnite. The most recent of the bunch is Rooster Teeth's anime series RWBY (pronounced "ruby"), which received an animated film not that long ago.

RWBY has gradually grown into its own big thing since its 2013 debut and the passing of its creator Monty Oum two years later. Though it's older than Fortnite, it's still "new" in that many audiences don't yet have the series on their radar. With the film Justice League x RWBY: Super Heroes and Huntsmen, Part One, which got a U.S. release earlier this year but just came out in Japan, part of the aim was to introduce the show to a new audience by way of DC's top-tier characters, and a multiverse story that sees the Justice League reimagined in the show's science fantasy aesthetic.
io9 recently talked with the film's writer, Meghan Fitzmartin—whose previous DC experience includes building out Tim Drake's bisexuality and his recent solo comic book—about bringing the best of RWBY and the Justice League together, along with getting into the show and her general fondness for crossovers and young adult heroes.
---
Justin Carter, io9: How's it been growing into a position where you've gotten to explore these characters you've grown up with, like the Batfamily and DC's legacy YA heroes? Before getting to write the mainline Batfamily, did you ever consider playing in a more open space like an alternate universe?
Meghan Fitzmartin: It's been a dream come true [laughs]. Being able to work with these characters who've meant the whole world to me my whole life is always the dream. Characters like Batman and Tim Drake end up being so impactful in our lives, and it's why we get into telling stories in the first place.
I love playing in multiverses, and I'm very keen on the exploration of various story elements you can do when in that space. For me, the best fit is ultimately on a story-by-story basis, and other parts of a character could be used in a more playful element. But with Tim's coming out, we very much wanted it to be in the main continuity. With that character's past [queer-coded] history, we wanted to be sure there was no question of his identity.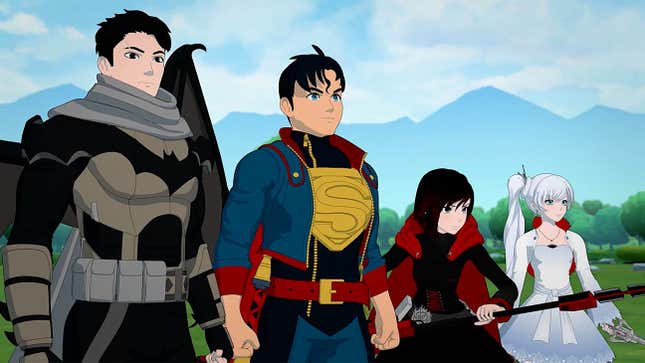 io9: Multiverses are such a thing in Big Two comics, especially nowadays. What multiverse stories have had an effect on you?

Fitzmartin: The first time I ever read a multiverse comic was the Avengers/JLA comic [from 2003], and then I've read all the Crises on various Infinites. One of the things that was incredibly impactful for me was actually this TV show called The Lost World, based on the 1912 novel from Sir Arthur Conan Doyle. It's essentially all about multiverses, and I think that became the starting point for my fascination with them.

io9: Is that love of multiverses what drew you to Justice League x RWBY?
Fitzmartin: I came to the movie from the RWBY side of things, actually. The question with multiverses a lot of the time is, "What have we not seen? What is the interesting [or new] thing?" I was really excited by the idea of seeing a more anime version of the Justice League. There's nothing new under the sun, but we get a chance to do something cool and interesting that is this side of new.
Before the movie, I didn't know anything about it, partially because I knew that I'd be obsessed with it. With everything I'd heard about it, I knew that I couldn't let it consume me quite yet. Then in December 2020, my producer Jim Krieg reached out asking me if I knew anything about RWBY, and I told him, "Give me two weeks, and I will know everything about RWBY." I was just waiting for the right time for someone to tell me I needed to know it so I could properly dive in and mainline it.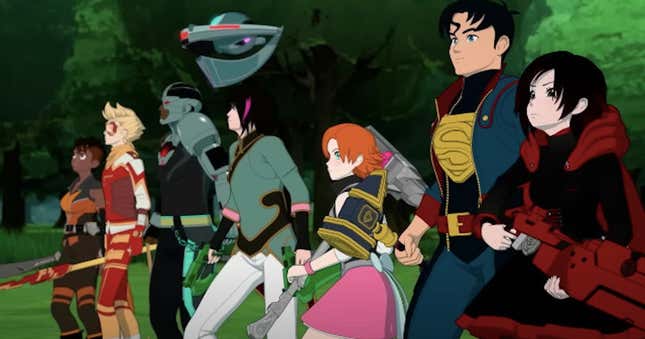 io9: This movie came out not long after RWBY's ninth season ended. Did you know what the writers had planned for season nine, and how did that affect how you wrote the movie at all?

Fitzmartin: I was aware of some plans—I asked questions to [showrunner and writer] Kerry [Shawcross], just so I knew where the characters were going. And it totally wasn't because I wanted to know about certain favorite characters [laughs]. Being able to pull from a lot of stuff that the characters were grappling with in volume nine, we were able to provide clear evidence of these feelings the characters were having in the movie. While there's hints for certain characters, it's something you especially see with Ruby. Lindsay [Jones] does a good job of portraying her, and that struggle with leadership is so human and vulnerable. Knowing what was coming in volume nine, being able to play into it was really fun.

io9: Since you came into RWBY so late in the show's lifecycle, did you have any specific goals with the movie to bring in people who know the Justice League, but not RWBY?
Fitzmartin: Largely, it worked out in my favor that I was newer to the show's lore. I could come in, look at the pieces that I didn't know, and play around with it. Working with [series writers] Kerry Shawcross and Eddy Rivas helped a lot with that as well. Like you said, most folks know Justice League, but they might not know RWBY. For me, being able to play in that world and be able to invite JL fans like I was invited in was part of the fun. That show's world was so fun to explore, so I wanted to try and express that with this movie.
Justice League x RWBY is inspired by a DC miniseries. When I do adaptations, the importance for me is finding the twist on the story we haven't seen before. I'm not interested in retelling a story over and over again, and I don't want to step on the original creators' toes. Comics and animation are two different mediums; I have the extreme privilege of working in both. There's things that work in comics that don't work in animation and vice-versa, so it's similar to multiverses. You're able to play in the multiverses that fully fit the story that you're trying to hit.
---
Justice League x RWBY: Super Heroes and Huntsmen, Part One is available now on Blu-ray/DVD and digital in the U.S.

---
Want more io9 news? Check out when to expect the latest Marvel, Star Wars, and Star Trek releases, what's next for the DC Universe on film and TV, and everything you need to know about the future of Doctor Who.