Organic matter decomposes and sediment takes its place during the fossilization process, turning bones to rock. Soft tissue and proteins do not stick around. But in at least one 195-million-year-old dinosaur rib bone, some ancient bits of collagen protein found a way.

A team of Chinese, Taiwanese and Canadian scientists used a kind of particle accelerator, called a synchrotron, to image a rib sample from Lufengosaurus, a 20-foot-long miniature brontosaurus-looking dino found in China, and found collagen proteins locked inside. The scientists also found hematite, an iron-containing mineral possibly left over from the dinosaur's blood, that likely contributed to the preservation of the protein bits. Proteins are the way DNA manifests itself, so protein remnants can help scientists gain information on dinosaur biology and evolution that rock-like fossils alone can't offer.
"This is by far the oldest evidence of actual collagen within a fossil," Robert Reisz, a paleontologist from the University of Toronto, Mississauga, told Gizmodo. "Most previous work has been in the region of 65 to 70 million years old. This is 195."

G/O Media may get a commission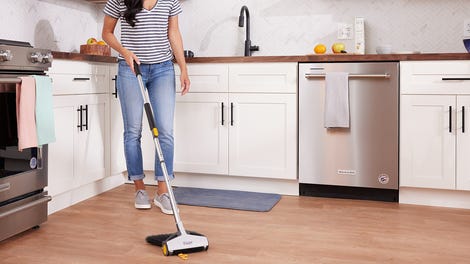 BOGO 50% Off
Flippr - BOGO 50% Off
The team studied the the rib bone section at the National Synchrotron Radiation Research Center in Taiwan. Here, magnets cause particles to race almost 400 feet around a many-sided polygon, spitting out light particles, called photons, at each bend. When the photons strike the dinosaur bones, the scientists can tell what kinds of particles are inside based on how the bones absorb the light.

Importantly, this method allowed the scientists to study the fossil without destroying it, said Reisz. They only needed to make a cut to expose the vascular canals, regions within the bone that would have carried blood vessels and blood.
The results, published today in the journal Nature Communications, revealed the kinds of protein traces that indicate degraded collagen fragments, which probably made up the blood vessel walls, and iron-containing hematite, which probably came from hemoglobin, the protein that carries oxygen in blood. "That's the cool thing," said Reisz. "There's an association between these proteins and particles of hematite," meaning the hematite could have assisted in preserving the proteins.

We asked how the team could be so sure the proteins weren't from some external source, and Reisz assured us they used an incredibly strict protocol to prevent contamination. So strict, in fact, that they were initially washing away the dinosaur proteins while cleaning the sample, and only made their discovery after switching from water to alcohol as a cleaning agent.
Other scientists thought the result was exciting, but would hesitate to call the discovery a slam dunk yet. "This is fantastic news and shows more evidence of protein preservation in multi-million year old fossil specimens and furthers our previous claims," said John M. Asara, Associate Professor of Medicine at Harvard Medical School. "It is difficult to prove the origin of these protein bonds in this 195 million year old fossil specimen without protein or genetic sequence data to support its origin."
For Reisz, the best part of the project was the international aspect. "It's really neat to be able to collaborate across continents," he said.