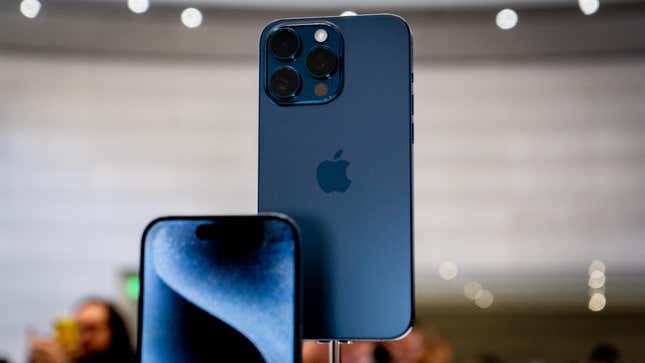 If you haven't already pre-ordered Apple's upcoming iPhone 15 set to drop Sept. 22, then you should know you could be waiting several weeks before your new phone comes directly to your door.
Pre-orders for the upcoming iPhone 15 and 15 Plus as well as the iPhone 15 Pro and Pro Max models went online at 8 a.m. ET Friday and the sudden influx of demand has pushed shipping estimates nearly three weeks or more. As Bloomberg first noted, deliveries for the Pro Max model slipped from Sept. 22 all the way out to Oct. 16 just a few minutes after Apple opened up its Store page for sales. As of Friday afternoon ET, people waiting for a Pro Max could see their shipping date slip all the way to Oct. 23 for the Max. Those wanting to get their hands on an iPhone 15 Pro could expect to twiddle their thumbs until Oct. 9 before it arrives at their door, depending on location.
Things are slightly better for those getting the less-expensive iPhone 15 models. They should only have to wait until at most Oct. 2 before they crack open the latest iPhone. The delays impact all the different varieties of colors and storage options. Demand was so intense in the first few minutes of the site being online, that some users reported issues loading or placing orders.
Those picking up their models in-store shouldn't have to worry too much, as most appointments are set for either Sept. 22 or 23 for Apple's 270 retail stores in the U.S.
Reports from supply chain analysts last month suggested Apple was cutting the total number of iPhone shipments this year after seeing an overall slump in smartphone sales going into 2023. According to analyst Jeff Pu, the Cupertino company was expected to ship 85 million iPhone units this year. The company had also expected weaker adoption rates than normal.
Of course, strong pre-orders don't necessarily suggest total yearly sales will beat expectations. Apple's iPhone 15 Pro Max is $100 more expensive at $1,199 for 256GB of storage than last year, and earlier reports suggested some new premium features like the titanium frames cost more to source than the iPhone 14's aluminum casing. That being said, the tech giant is pushing its most expensive models as the Pro Max is reportedly taking up the bulk of global shipments. Going off of pre-orders, Apple's bet may have paid off, at least at the start before the phones actually land in customers' laps.
The Pro and Pro Max also sport a new periscope zoom lens and a faster A17 processor built on the company's first 3nm architecture. What's more, there seem to be even more additions to the phone than Apple was ready to announce earlier this week. The new iPhone Pro Max should contain a 4422mAh battery, slightly bigger than last year's comparable 4323mAh on the 14 Pro Max. These details were found in Chinese regulatory filings seen by MySmartPrice, coming to us via 9to5Mac. The rest of Apple's new lineup should also receive small bumps in battery size, though what may matter more is overall battery efficiency and lifespan. Users might receive the ability to set a max charge limit for their phones through a new setting on iOS 17, which may help preserve the battery's longtime health.
Gizmodo's own Florence Ion came away impressed after she got to test the phones after the company's Wonderlust event this past Tuesday. First impressions aren't everything, and we'll need to see how Apple's latest stacks up, but at least some customers don't seem to want to wait and find out.