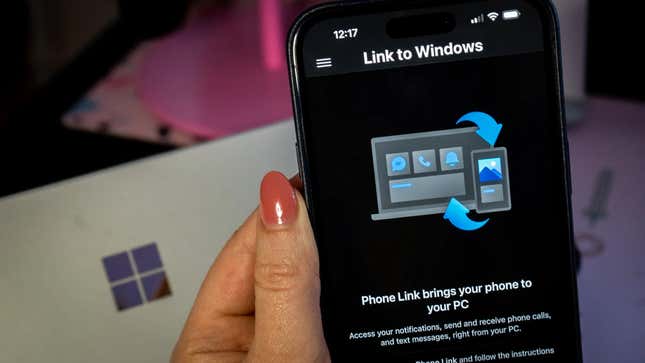 It's been a long time coming, but Microsoft finally has (a start on) its answer to AirDrop for instantaneous PC-to-iPhone connections. On Monday, Microsoft declared it had updated its existing Phone Link system, letting iOS users connect their phone to their PC to send and receive messages and calls from their desktop.
Using Your iPhone on Windows 10
Microsoft announced this functionality last month and promised the feature would come to everyone in mid-May (impeccable timing, as it turns out). The Phone Link system uses Bluetooth to sync your iPhone devices running iOS 14 or higher, and it requires Windows 11. After finding the Phone Link app on their system, users can pair the phone to the PC through a simple QR code, which should allow for near-instantaneous transfer of data.
With Phone Link enabled (it comes pre-installed on Windows 11), users can see and respond to recent messages, pick up or dismiss calls, view contacts, and see a recent call history, all from their PC. These are all handy features if your phone has been buzzing incessantly during an over-long meeting. Users can also remove paired devices by going to the Phone Link app and removing them through the Settings-My Devices menu.
Unfortunately, the app is unavailable for iPads or devices running macOS. In addition, it doesn't work for group messages and it cannot yet share images or videos. Users can't see the full chat history, too. The messages are session based, so you won't see anything that didn't come through when the iPhone was connected, either.
Google has also finally caught on that this long-existing iPhone functionality would be useful on Android as well. Google's own Nearby Share feature on Android phones is now in Beta for Windows, allowing Bluetooth access between a PC running Windows 10 or 11 and an Android device. The system already worked with Chromebooks, but there was clearly a need for similar functionality between Android devices and the most-common OS on the market. Go figure.
---
Want more of Gizmodo's consumer electronics picks? Check out our guides to the best phones, best laptops, best cameras, best televisions, best printers, and best tablets. If you want to learn about the next big thing, see our guide to everything we know about the iPhone 15. Click here to save on the best deals of the day, courtesy of our friends at The Inventory.