Halloween may still be most of a month away, but the scares have already begun. Urine-craved vampires. Genetically engineered insects that do their masters' bidding. Algal monstrosities. Dark magicks. iPhone XS bugs.

Ward yourself from these dangers and more with the ultimate talisman: knowledge. Gizmodo's best stories of the last week will arm you with everything you need to survive until October 31st...
Last month, visitors to Washington's Olympic National Park were treated to a surreal sight. A helicopter crossed the sky dangling strands of drugged, blindfolded mountain goats—as many as five at a time—like a string of furry pearls. In the end, more than 100 goats were airlifted from the park and shipped to new homes across the state, all because they loved human pee too much.

Lacking the dietary minerals they'd find in their natural range, park officials say some of the goats (which were introduced to the area in the 1920s) have become "quite aggressive" when seeking human sources of salt. Namely, urine.
G/O Media may get a commission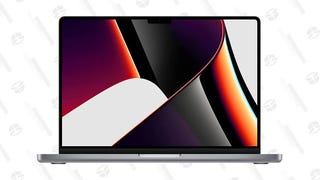 Save $300
2021 14" 1TB MacBook Pro
"They learn that salt comes from people and people pee on trails, so they follow you down the trail and wait until you pee," said Dr. Patti Happe, the park's wildlife branch chief. "People think that goats are chasing them when really they're just following them, waiting for a handout."
Amazon's announcement of a universal $15-per-hour minimum wage for employees and temps stunned critics on Tuesday, earning the megacorporation unlikely praise from progressives like Senator Bernie Sanders and 2018 U.S. congressional candidate Alexandria Ocasio-Cortez.
The move is, for Amazon's hundreds of thousands of workers, a net benefit—full stop. Tactically, it's also a brilliant play ostensibly intended to take the wind out of the sails of a growing pro-union contingent within the company, garner goodwill for a corporation repeatedly accused of grueling and unsafe warehouse conditions, and pressure competitors that may not have other revenue sources—like Amazon Web Services—to underwrite higher wages. On one point, though, it seems the pay increase announcement backed Amazon into a corner.
A new technology in which insects are used to genetically modify crops could be converted into a dangerous, and possibly illegal, bioweapon, alleges a Science Policy Forum report released today. Naturally, the organization leading the research says it's doing nothing of the sort.

The report is a response to a ongoing research program funded by the U.S. Defense Advanced Research Projects Agency (DARPA). Dubbed "Insect Allies," the idea is to create more resilient crops to help farmers deal with climate change, drought, frost, floods, salinity, and disease. But instead of modifying seeds in a lab, farmers would send fleets of insects into their crops, where the genetically modified bugs would do their work, "infecting" the plants with a special virus that passes along the new resilience genes.
If you think this sounds scary, you're not alone. The lead author of the new Science Policy Forum report, Richard Guy Reeves from the Department of Evolutionary Genetics at the Max Planck Institute for Evolutionary Biology, Plön, says the Insect Allies program is a disturbing example of dual-use research in which DARPA, in addition to helping out farmers, is also working on a potential weapon. When contacted by Gizmodo, DARPA denied the accusations made in the new report, saying it's filled with inaccuracies and mischaracterizations.
There's a tired, much-debunked doomsday theory pushed by British physicist Martin Rees that powerful particle colliders have the potential to destroy Earth. They don't. However, since the story has once again turned up as a top Google News hit, we will deign to debunk it once more.
No. The Large Hadron Collider does not pose harm to human existence, nor will it somehow devour the Earth.
One man's experience with a common erectile dysfunction drug turned out to be a lot more eye-opening than he expected. According to his doctors, he developed a seemingly permanent red tint to his color vision after taking a massive dose of sildenafil citrate.
Sildenafil is sold as a generic drug for erectile dysfunction as well as under the brand name Viagra. Despite being relatively safe, even a typically prescribed dose of sildenafil is known to sometimes cause people vision problems, such as blurred vision, increased light sensitivity, and a change in our color vision (usually blue-tinted vision). But these problems are seemingly temporary, usually lasting no more than a day.
The 31-year-old man, whose case was detailed in a report published this month in Retinal Cases, didn't turn out to be so lucky.
California Governor Jerry Brown on Sunday signed into law Senate Bill 822, legislation that seeks to reestablish net neutrality as the core principle by which internet service providers treat all data carried over their networks within the state.

Like the 2015 Open Internet Order repealed by the FCC in December, S.B. 822 extends to the state's 40 million residents a host of legal protections aimed at reigning in the power of Big Telecom—a handful of companies that sell internet subscriptions to nearly 100 million U.S. broadband customers, many of whom live in neighborhoods with only a single provider option.
Around two dozen states pushed back after the FCC vote, legislatively and with executive action. Most of the bills are now dead, but of those that did succeed—Oregon, Washington, and Vermont have each enacted net neutrality legislation—none are as thorough in replicating the Obama-era protections as California's.
It wouldn't be an iPhone launch without a small army of hand-wringing Apple fans complaining about their expensive new phones on the internet. This year is no exception, and forums are filling up with reports of issues with the iPhone XS and iPhone XS Max. None of the problems are particularly catastrophic. At least not yet.
Before we get into the details, it's worth pointing out that the iPhone XS devices are brand new. They've been out in the wild for less than two weeks. The public release of iOS 12 is equally new, although it enjoyed many months in beta-testing. So it's not necessarily a surprise that a new iPhone with new software will suffer from a few bugs. We've seen it happen before—most notably in 2010, the year of Antennagate—and we'll see it again.
That doesn't mean you shouldn't be pissed off if your iPhone XS is all messed up. We're making a running list of the widespread complaints about the new phones, and we encourage you to add your own grievances in the comments. You can also email me tips directly.
At first glance, The HP Spectre Folio looks like any old tablet in a leather case. It's not outstanding or even very interesting looking. But it's a very clever device, hiding in an elegant package. When you see it in person, your excitement slowly builds as its design reveals itself to you.

Indeed, if you saw the device below plopped on someone's desk, you might rightly identify them as an aesthete with great taste in accessories, but you wouldn't think anything of what's inside. It's just a leather folder. There could be a yellow pad of paper inside for all you know.
Get ready for the next generation of wifi technology: Wi-fi 6 (for so it is named) is going to be appearing on devices from next year. But will you have to throw out your old router and get a new one? And is this going to make your Netflix run faster? Here's everything you need to know about the new standard.
The shape of things to come in U.S. politics could be decided, in no small part, by foul-smelling, fish-killing slime.

Florida is in the grips of an algae crisis of epic proportions. Pollution and water management issues have triggered bloom after bloom of blue-green algae on the ginormous Lake Okeechobee, the beating heart of the state's water system. When water is released from the lake via drainage canals, the stinky, slimy gunk creeps into rivers and estuaries, mucking up coastlines and sickening residents.
Meanwhile, a separate algae outbreak—starring the saltwater-loving Karenia brevis—has laid siege to Florida's southwest coast, killing tens of thousands of fish as well as manatees, sea turtles, and dolphins. The so-called red tide bloom currently spans some 135 miles of coastline, and it shows no signs of stopping.
Climate change? Bad. Wind farms to fight climate change? Maybe...also bad?
That's the weirdly veiled and instantly controversial conclusion of two new papers out on Thursday in Joule and Environmental Research Letters. The twin papers look at how wind power could create localized warming and how much energy wind farms produce. The results show that wind farms generate comparatively low power for the area they take up, and that installing a bunch of wind farms could heat up the surrounding land.
The papers don't say wind energy is therefore bad, but it's hard to not feel that hanging over the proceedings or becoming a takeaway for bad faith actors looking to kneecap renewable power. And while it's certainly worth weighing the results as we push toward a no carbon future, it's also important to keep an eye on the reality that global climate change is likely much more of a catastrophe waiting to happen than local warming from wind farms.
In less than a week, Doctor Who will be changed forever by the arrival of Jodie Whittaker as the 13th Doctor, the first woman to play the role...officially speaking. The debate about Time Lord gender has been a part of Doctor Who for decades, but before Whittaker, Doctor Who at large has given us a few unusual stories to imagine what a female Doctor would be like.

There have been more attempts at female Doctors beyond Jodie Whittaker's casting—whether in the realm of fandom filmmaking or even suggestions during the classic era of the show to attempt to cast a woman in the role. But the two most prominent examples we actually have in Doctor Who's past of imagining a female Doctor both err on the side of comedy: Steven Moffat's—yes, that Moffat!—1999 Comic Relief skit "The Curse of Fatal Death," a lovingly absurd pastiche of Doctor Who tropes, and Doctor Who Unbound: Exile, a 2003 audio drama from Big Finish, which skewed to a much darker side in its humor. Looking back at both in the wake of Jodie Whittaker's impending arrival gives us a very interesting look at how times have changed...as Doctor Who has itself.
Halloween is coming! And there's no better way to prepare than by streaming as much horror as your peepers can withstand. All of the services are ramping up their scary programming—so we picked through the trick-or-treat pile and selected the most nightmarish titles of them all.

Side note: Don't worry, if you're not the horror type, you can check out the October edition of the Nerd's Watch for more general sci-fi and fantasy streaming recommendations!
This morning brought with it another sumptuous look at Spider-Man: Into the Spider-Verse, Sony Animation's gorgeous take on the world of Miles Morales (and his cross-universe Spider-Friends). Not only does it give us our best peek yet at the film, but it's jam-packed with dozens of little details and Easter eggs. Allow us to break down its amazing, sensational, and spectacular multiversal secrets for you...
Venom strikes an imperfect balance between two extremes—sticking too close to, or straying too far from, Marvel's source material. And that's a testament to Sony's belief that audiences are going to want to watch a charmingly-disheveled Tom Hardy murder and eat people in the name of twisted justice in this movie and any potential sequels.
Drifting away from the source material is always a risky gamble when it comes to comic book movies, especially when a film is trying to establish a character who's meant to carry a franchise. Roam too far, and comics purists will dismiss a movie as fundamentally inauthentic. Come too close, and a movie becomes dense to the point of being a drag—and in Venom's case, run into all kinds of legal complications that Sony's probably trying to avoid.
Stepping onto the set of Netflix's The Chilling Adventures of Sabrina is like accepting an apple from a serpent. Dark forces offer truth, hint at stories and Easter eggs beneath the red, ripened flesh. Secrets of the show's characters and mythos are built into every room, from the walls created with Sacred Geometry to a hall of hexed shoes. A world of knowledge beckons, and we're going to take a big, luscious bite.