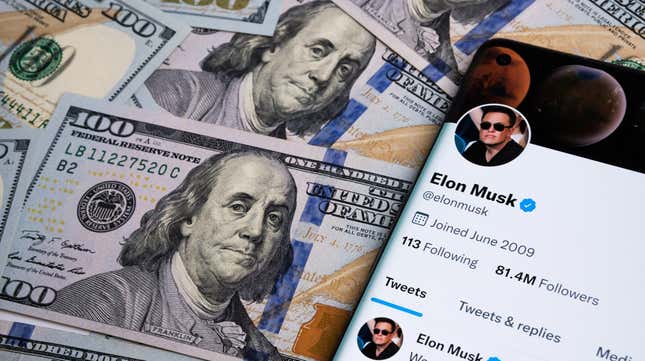 Elon Musk's Twitter has debts to pay. And in the billionaire's quest to monetize everything about his recently acquired social media site, Twitter is set to start charging for access to its Application Program Interface (API).

How To Remove Followers From Twitter
Beginning February 9, the platform will "no longer support free access to the Twitter API," posted the company's official Twitter Dev account in the wee hours of Thursday morning. "A paid basic tier will be available instead," Twitter Dev added.
Currently, Twitter provides free, limited API access. For broader access, lifted restrictions, and additional features, there are paid premium tiers that developers can shell out for. Although the exact, up-to-date pay schedule isn't clear, in 2022 premium access reportedly started at $99 per month and went as high as $1,899 per month, depending on the extent of access. It's difficult to imagine any casual programmer or researcher paying coughing up the cash at those prices.
Access to Twitter's API is critical for third-party apps to function. An API allows a widget like Tweetbot, which helps users switch up and customize their feed, to engage with Twitter's digital infrastructure, pull data, and work in real time. The API is also crucial for programming automated accounts, i.e. Twitter bots—which Musk waged a public war against in his one-time efforts to back out of his offer to buy the platform.
Though Twitter bots can be used for nefarious ends, many bots on the site are good, fun, and/or useful. For instance, there's this one that tracks and reports when sewage is being dumped into New York City waterways. Or this other one that takes clean screenshots of tweets when asked. Or this other, other one that colorizes old photos. Another, personal favorite of mine has been @PossumEveryHour which, you guessed it, posts a picture of an opossum each hour. Unfortunately, all of these are probably toast post-February 9.
Researchers, too, who keep tabs on Twitter trends use the API to compile their data will no longer be able to do so for free.
The change comes on the heels of Twitter banning multiple third-party apps on its platform. Initially, the apps just stopped working. Then the company's development team tweeted that they were simply "enforcing its long-standing API rules," as an explanation for the change. Two days later, Twitter quietly adjusted its developer agreement to bar the "use or access [of] Licensed Materials to create or attempt to create a substitute or similar service or product to the Twitter Applications," apparently hoping no one would notice the alteration was not, in fact, "long-standing."

Though the initial change to the API agreement was just focused on "substitute" apps and products, the end of the free API access has much broader implications. Third-party apps like Tweetbot and Twitterific made money through subscriptions and app store purchase fees. However, your favorite tweet bots probably don't and neither do most researchers. Shutting down the free API access option isn't just squashing monetized competition, it's the end of an era for Twitter transparency and joyful automation.
As a reminder, the move to charge for API access is just one of many new attempts to squeeze as much juice as possible out of the lemon that Musk paid $44 billion for. Since the Tesla/Twitter/SpaceX CEO's takeover, the company has also scrapped more than half of its staff, cut employee benefits, started charging for checkmarks, auctioned off office furniture, and stopped paying its rent.