As the Photo Marketing Association (PMA) convention rages on in Las Vegas, we're jumping all over it, showing you the best and brightest of the goings-on.
Trends? It looks like the digital SLR is making a run for the lower-end camera dollar, while at the same time, point-and-shoot models are vying for attention with fashion statements, oddball features such as waterproofness and capabilities only seen on high-end models in the past.
Here's a list of what we've covered so far, with more on the way:

GE Goes All Hep Cat on Those Digital Cameras
G/O Media may get a commission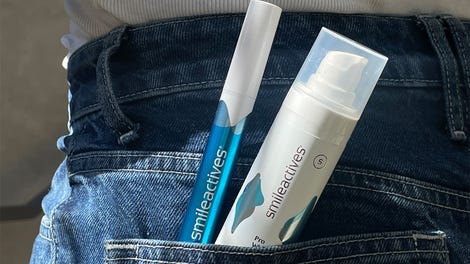 58% off
Whitening Powerhouse Pen & Gel Duo
Olympus E-510 and E-410 Hands-On
AlwaysOn Armadillo + Millipod Combo for Protection and Support

Minox Leica M3 Replica of a Classic Updated
D-Flector: Photography Studio in a Suitcase
Canon Selphy ES1 Photo Printer
Canon EOS-1D Mark III Snapping Off Frames Like a House Afire

Jobo photoGPS Brings Easy GPS Photo Tagging to the Masses
Sony Alpha Prototype, First Pics of 'High Amateur' Model
Sony Alpha Flagship: First Pics
Sony Announces Expansions to Alpha DSLR Line
Canon EOS-1D Mark III Hands-On
Joby Gives GorillaPod a Dose of Growth Hormone
Canon Powershot TX-1 Hands-On With 720p in the Palm of Your Hand
Hewlett-Packard R837: No More Pet Pics With Zombie Eyes
Sony Cyber-shot DSC-G1: Look Mom, No Wires!

Olympus P-1: E-1's Top-Slot Replacement
Ricoh Caplio R6: Instant 16x Zoom
Nikon Spruces Up Its D40, Now the 10.2-Megapixel D40x
Olympus Mju 780: if this Camera was a Bug, it Would be a Cockroach
Olympus EVolt E410 and E510 DSLRs Now at 10MP, Both With Live View
Canon Blink Shot Cameras Won't Shoot Till Everyone's Eyes Are Open
Sony T100 and T20: for Staying In and Going Out
Canon EOS-1D Mark III Shoots 10 Frames Per Second
Canon PowerShot TX1 Shoots 720p HD, 7.1MP Stills
Canon Intros PowerShot A560 and A570 IS Entry-Level Cameras
Canon Rolls Out Two 7.1MP Digital Elph Cameras: the SD750 and SD1000
Nikon L-Series Coolpix Tickles Our Low End: 120 Bucks for 5MP
Nikon Intros Coolpix P5000 Has DSLR Brains, Point and Shoot Sensor
Nikon S50c is a Slick Point and Shoot with WiFi
Nikon S200 and S500 Cams: Start Up and Shoot in an Instant
Pentax Optio W30 Waterproof Shooter Dives Deeper Than Ever
Pentax Optio A30 Boots Up, Shoots and Focuses Quicker

Fujifilm's S700 Packs 10x Zooming Muscle and "Smart" Flash
Foveon x3-Packing Sigma SD14 DSLR to Finally Ship
Sony's PMA Leaks Reveal the Mysterious G1 and Nine Cybershot Offspring (Updated)